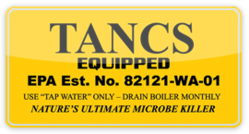 A 99.9999% reduction of MRSA and VRE on surfaces within 5 seconds is a level of performance that chemical disinfectants may never achieve.
Lake Forest, Illinois (PRWEB) January 11, 2013
1-800-GO-VAPOR.com, an authorized online dealer of Ladybug steam vapor sanitization systems, the only brand of vapor steam cleaners featuring the proprietary patented TANCS® technology, today announced complimentary shipping on the professional-grade Ladybug Tekno 2350 steam vapor systems ordered Monday thru Friday before 3:00 p.m. CST and shipped to Hawaii addresses serviced by UPS ground.
With TANCS® technology standard, the Tekno is especially suitable for schools, hotels, restaurants, supermarkets, hospitals, nursing homes, casinos, contract cleaning, offices and public houses, yet it remains light and compact enough for easy use in the home.
"Steam cleaners equipped with TANCS® have been lab tested and scientifically proven to disinfect surfaces in much less time and with greater safety and effectiveness than traditional typical disinfectants," says V. K. Dunlop of 1-800-GO-VAPOR.com.
According to Chuanwu Xi, Assistant Professor in the Department of Environmental Health at the University of Michigan, "Scientific studies have found that biofilms can be up to 1000 times more resistant to biocide inactivation than are suspended microbes. It is extremely difficult to get rid of biofilms and kill them. The efficacy of the steam vapor system is important because even strong chemical disinfectants such as bleach when allowed 20 minutes of dwell time did not achieve the same degree of kill that the TANCS®-equipped unit accomplished in three seconds."
With credible scientific evidence linking chemical cleaners to cancers, learning and developmental disorders, reproductive health and fertility problems, and asthma, an increasing number of businesses worldwide are turning to chemical-free vapor steam cleaners.
"Don't be fooled by imitations," says Dunlop. "TANCS®-equipped steam cleaners proudly display a yellow label with an EPA Establishment number in bold letters. TANCS®-equipped steam vapor systems qualify as disinfection devices for the EPA."
According to Benjamin Tanner, president of Antimicrobial Test Laboratories, "The TANCS® System has shown extraordinary results in laboratory tests. A 99.9999% reduction of MRSA and VRE on surfaces within 5 seconds is a level of performance that chemical disinfectants may never achieve."
Located in Lake Forest, Illinois, 1-800-GO-VAPOR.com is moving fast to educate consumers and businesses that finally, there's a feasible, environmentally friendly alternative to chemicals. The company markets Reliable, Vapamore and Ladybug vapor steam cleaners worldwide. For more information, call 1-800-468-2767. 1-800-GO-VAPOR.com is a proud member of the Safer Chemicals, Healthy Families coalition, a nationwide effort to protect families from toxic chemicals. To stay safe and avoid toxic chemicals, keep abreast of the latest news with 1-800-GO-VAPOR.com's Twitter account, @1800GOVAPOR.