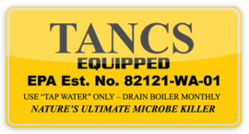 Ladybug is the only steam cleaner brand on the market that offers the proprietary patented TANCS® technology.
Vernon Hills, Illinois (PRWEB) February 07, 2013
LadybugSteamCleaners.com, an authorized nationwide dealer of Ladybug steam cleaners online and on its Chicago-area showroom floor, today announced complimentary shipping on all Ladybug vapor steam cleaners ordered Monday through Friday before 3:00 p.m. CST and shipped to mailing addresses serviced by UPS ground in Alaska and Hawaii.
Ladybug is the nation's leading brand of steam vapor systems that help protect human health and the environment.
As an added incentive to persuade consumers to ditch their conventional household cleaners, many of which contain hazardous chemicals linked to cancer and learning disabilities, LadybugSteamCleaners.com is throwing in a complimentary accessory kit valued at $30 with each Ladybug steam vapor system and extending its telephone hours for live sales support to help shoppers match the right system for their needs.
LadybugSteamCleaners.com's top sellers, according to company spokesperson V. K. Dunlop, are the Ladybug XL2300 steam vapor system and the commercial-grade Ladybug Tekno 2350 steam vapor system.
With Ladybug's proprietary patented TANCS® technology standard, the Tekno is especially suitable for schools, hotels, restaurants, supermarkets, casinos, contract cleaning, offices and public houses, yet it remains light and compact for easy use in the home.
Steam vapor systems equipped with TANCS® like the Tekno 2350 have been extensively tested and scientifically proven to disinfect surfaces in much less time and with greater safety and effectiveness than traditional typical disinfectants.
"Ladybug is the only steam cleaner brand on the market that offers the proprietary patented TANCS® technology," says Dunlop.
Steam vapor systems like the Tekno 2350, which ships with Thermo Accelerated Nano Crystal Sanitation (or TANCS®) as standard equipment, proudly display a sticker that says "EPA Est. No. 82121-WA-01" in bold letters.
"The yellow sticker tells you in a glance that your Ladybug qualifies as a disinfection device for the U.S. Environmental Protection Agency," says Dunlop.
Shoppers can reach a live LadybugSteamCleaners.com sales representative 7 days a week from 7:00 a.m. to 11:00 p.m. CST.
"Our sales specialists are experts on all things vapor," says Dunlop. "Each own and regularly use a vapor steam cleaner. You can't find better support anywhere."
Shoppers can still order 24 hours a day, 7 days a week via the Web. Hours for other customer support issues remain from 9:00 a.m. to 5:00 p.m. Monday through Friday.
Located in Vernon Hills, Illinois, LadybugSteamCleaners.com is moving fast to educate consumers and businesses that finally, there's a feasible, environmentally friendly alternative to chemicals. For more information, call 1-877-840-2977. LadybugSteamCleaners.com is a proud member of the Safer Chemicals, Healthy Families coalition, a nationwide effort to protect families from toxic chemicals. To stay safe and avoid toxic chemicals, keep abreast of the latest news with LadybugSteamCleaners.com's Twitter account, @LadybugSteam.