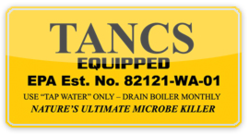 Using ordinary tap water, the Tekno 2350 steam cleaner with Ladybug's proprietary patented TANCS® technology qualifies as a disinfection device for the EPA.
Lake Forest, Illinois (PRWEB) December 11, 2012
A leading marketer of vapor steam cleaners with customers in every state in the nation and seven foreign countries while maintaining an unblemished A+ rating with the Better Business Bureau, today announced that it aims to actively market the Ladybug Tekno 2350 steam vapor sanitization system to nursing homes and assisted living facilities.
According to V. K. Dunlop of Chicago-area 1-800-GO-VAPOR.com, steam vapor systems like the Tekno 2350 are lab tested and scientifically proven to produce better results than traditional disinfectants.
"With simplified water-only protocols, there are no MSDS requirements to comply with or records to maintain," says Dunlop. "Which makes steam vapor systems ideal for cleaning, disinfecting and deodorizing many nursing home settings like upholstery, bathrooms, windows, kitchen areas and flooring without the use of toxic chemicals that are hazardous to residents and cleaning staff."
Using ordinary tap water, the Tekno 2350 steam cleaner with Ladybug's proprietary patented Thermo Accelerated Nano Crystal Sanitation (TANCS®) technology qualifies as a disinfection device for the U.S. Environmental Protection Agency (EPA Est. No. 82121-WA-01). According to Dunlop, this is particularly significant for long-term care facility residents since they are older and may have weakened immune systems that make them more vulnerable to traditional disinfectants than the general public.
According to Chuanwu Xi, Assistant Professor in the Department of Environmental Health at the University of Michigan, "Scientific studies have found that biofilms can be up to 1000 times more resistant to biocide inactivation than are suspended microbes. It is extremely difficult to get rid of biofilms and kill them. The efficacy of the steam vapor system is important because even strong chemical disinfectants such as bleach when allowed 20 minutes of dwell time did not achieve the same degree of kill that the TANCS®-equipped unit accomplished in three seconds."
Located in Lake Forest, Illinois, 1-800-GO-VAPOR.com is moving fast to educate consumers and businesses that finally, there's a feasible, environmentally friendly alternative to chemicals. The company markets Reliable, Vapamore and Ladybug steam cleaners. For more information, call 1-800-468-2767. 1-800-GO-VAPOR.com is a proud member of the Safer Chemicals, Healthy Families coalition, a nationwide effort to protect families from toxic chemicals. To stay safe and avoid toxic chemicals, keep abreast of the latest news with 1-800-GO-VAPOR.com's Twitter account, @1800GOVAPOR.