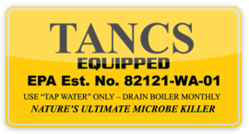 The TANCS® System has shown extraordinary results in laboratory tests. A 99.9999% reduction of MRSA and VRE on surfaces within 5 seconds is a level of performance that chemical disinfectants may never achieve.
Lake Forest, Illinois (PRWEB) January 08, 2013
1-800-GO-VAPOR.com, the nation's go-to source for quality built vapor steam cleaners, today announced complimentary same-day shipping on Ladybug steam vapor sanitization systems ordered Monday thru Friday before 3:00 p.m. CST and shipped within the contiguous U.S.
As an added incentive to persuade consumers to ditch their traditional household cleaners, many of which contain hazardous chemicals, 1-800-GO-VAPOR.com is throwing in a complimentary accessory kit valued at $30 with each Ladybug order and extending its 2013 telephone hours for live sales support to help shoppers match the right vapor steam cleaner for their needs.
1-800-GO-VAPOR.com's top sellers, according to company spokesperson V. K. Dunlop, are the Ladybug XL2300 steam vapor system and the commercial-grade Ladybug Tekno 2350 steam vapor system.
"These popular systems clean everything from kitchens to the shower to hardwood floors using only tap water," says Dunlop. "They also kill dust mites and bed bugs on contact."
The XL2300 features onboard tool storage and offers Ladybug's proprietary patented Thermo Accelerated Nano Crystal Sanitation technology, called TANCS®, as an option. TANCS®-equipped vapor steam cleaners qualify as disinfection devices for the U.S. Environmental Protection Agency. When armed with TANCS®, the XL2300 is sometimes referred to as the Ladybug XLT2300 steam cleaner. TANCS® comes standard with the professional-grade Tekno, making it suitable for many commercial settings such as dental offices, animal clinics, hospitals, restaurants, nursing homes, supermarkets and schools where the highest level of cleanliness is required.
According to Benjamin Tanner, president of Antimicrobial Test Laboratories, "The TANCS® System has shown extraordinary results in laboratory tests. A 99.9999% reduction of MRSA and VRE on surfaces within 5 seconds is a level of performance that chemical disinfectants may never achieve."
Chuanwu Xi, Assistant Professor in the Department of Environmental Health at the University of Michigan, adds, "Scientific studies have found that biofilms can be up to 1000 times more resistant to biocide inactivation than are suspended microbes. It is extremely difficult to get rid of biofilms and kill them. The efficacy of the steam vapor system is important because even strong chemical disinfectants such as bleach when allowed 20 minutes of dwell time did not achieve the same degree of kill that the TANCS®-equipped unit accomplished in three seconds."
The XL2300 and the Tekno come with everything that makes Ladybug steam cleaners legendary. High-temperature dry steam, variable pressure, quick heat-up time, and durable construction combined with an 8-year boiler warranty (when purchased with TANCS®) make these steam vapor systems two of the most popular vapor steam cleaners available.
"With credible scientific evidence linking chemicals to cancers, learning and developmental disorders, reproductive health and fertility problems, and asthma, every household and business should own a chemical-free Ladybug vapor steam cleaner," says Dunlop.
Shoppers can reach a live sales representative 7 days a week from 7:00 a.m. to 11:00 p.m. CST.
"Our sales specialists are experts on all things vapor," says Dunlop. "Each own and regularly use a vapor steam cleaner. You can't find better support anywhere. So if you're looking to ditch your toxic household cleaning products, spend some time on our Website. Read our Ladybug vapor steam cleaner product reviews driven by PowerReviews. Find a vapor steam cleaner that's preferred by people like you."
Shoppers can still order 24 hours a day, 7 days a week via the Web. Hours for other customer support issues remain from 9:00 a.m. to 5:00 p.m. Monday thru Friday.
Located in Lake Forest, Illinois, 1-800-GO-VAPOR.com is moving fast to educate consumers and businesses that finally, there's a feasible, environmentally friendly alternative to chemicals. The company markets Reliable, Vapamore and Ladybug steam cleaners worldwide while maintaining an A+ rating with the Better Business Bureau and. For more information, call 1-800-468-2767. 1-800-GO-VAPOR.com is a proud member of the Safer Chemicals, Healthy Families coalition, a nationwide effort to protect families from toxic chemicals. To stay safe and avoid toxic chemicals, keep abreast of the latest news with 1-800-GO-VAPOR.com's Twitter account, @1800GOVAPOR.