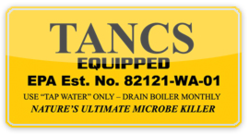 The yellow label tells you in a glance that your Ladybug qualifies as a disinfection device for the EPA.
Vernon Hills, IL (PRWEB) May 07, 2013
LadybugSteamCleaners.com, an authorized Ladybug dealer that sells Ladybug vapor steam cleaners across the globe through its online store and to walk-in customers who visit their Chicago-area showroom floor, today announced that the demand for refurbished vapor steam cleaners has never been greater. According to the company, factory-reconditioned Ladybug steam cleaners usually sell within days (even hours) of being listed in Shop The Outlet. A new section introduced earlier this year to LadybugSteamCleaners.com dedicated to refurbished and open box Ladybug steam cleaners.
Being factory refurbished means that a steam cleaner has been completely checked out, cleaned and tested before sold.
"Saving money is important to everyone and buying a refurbished vapor steam cleaner is the smart choice for many people," says V. K. Dunlop of LadybugSteamCleaners.com. "Because we don't get a lot of Ladybug returns our supply is limited. But we update our inventory daily and availability is guaranteed upon receipt of payment."
Ladybug leads the steam cleaner revolution with its line of steam vapor systems. Steam cleaners equipped with Ladybug's proprietary patented Thermo Accelerated Nano Crystal Sanitation technology (called TANCS®) are lab tested and scientifically proven to produce better results than traditional disinfectants.
TANCS®-equipped steam cleaners like the top-selling Ladybug Tekno 2350 steam cleaner qualify as disinfection devices for the U.S. Environmental Protection Agency (EPA).
"While bleach has been trusted for years as the perfect disinfectant, bleach leaves as many live bacteria cells as dead cells," says Dunlop. "But scientific testing has found that steam cleaners equipped with TANCS® kill the cells that are unreachable by bleach."
TANCS®-equipped steam cleaners proudly display a yellow label that says "EPA Est. No. 82121-WA-01" in bold letters.
"Don't be fooled by imitations," says Dunlop. "Ladybug is changing the way people clean with its revolutionary TANCS® technology. The yellow label tells you in a glance that your Ladybug qualifies as a disinfection device for the EPA."
Located in Vernon Hills, Illinois, LadybugSteamCleaners.com is moving fast to educate consumers and businesses that finally, there's a feasible, environmentally friendly alternative to chemicals. For more information, call 1-877-840-2977. LadybugSteamCleaners.com is a proud member of the Safer Chemicals, Healthy Families coalition, a nationwide effort to protect families from toxic chemicals. To stay safe and avoid toxic chemicals, keep abreast of the latest news with LadybugSteamCleaners.com's Twitter account, @LadybugSteam.