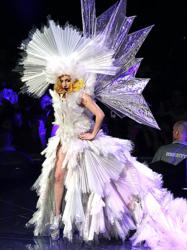 Earlier this month, she took to the stage in Houston, and as she always does, she pulled out all the stops in front of her fans.
Houston, TX (PRWEB) April 20, 2011
Fresh on the heels of 12 Billboard Music Award nominations and a recent concert tumble that could have left her seriously injured, Lady Gaga could use a little rest and recovery. Home and Bedroom Furniture, a discount retailer of quality beds and bedding, has just the beauty rest foundation this pop sensation needs to recharge her battery. The company's line of Simmons Beautyrest World Class Mattresses provides the support and comfort this world-class diva is accustomed to so she can keep on shaking up the music industry.
When the Billboard Music Awards air on May 22, 2011, all eyes will be on Lady Gaga to see if she can top her egg-capsule arrival at the 2011 Grammy Awards or her meat dress getup at the 2010 MTV Video Music Awards. With her hit single "Poker Face" snagging the award show's Top European Hot 100 honor in 2009 and "Bad Romance" walking away with the same recognition in 2010, the odds are in Gaga's favor that either "Bad Romance" or "Telephone" will be named 2011's Top Dance Song. But those are only two of the 12 honors she's up for.
With the big Billboard day less than a month away, Lady might want to start resting up now on a Beautyrest World Class mattress for all the "Paparazzi" media frenzy that is sure to follow her come awards night. That downtime is especially needed and deserved after her recent spill off the piano at a concert in Houston, Texas.
Talking her latest hit, "Born This Way," to the masses, Lady Gaga is currently on tour. Earlier this month, she took to the stage in Houston, and as she always does, she pulled out all the stops in front of her fans. Perched precariously with one thigh-high stiletto boot on the piano bench and the other on the keys, the bench came toppling out beneath her, sending Gaga to the floor. In true diva style, she got right back on her feet and went on with the show.
With its Super Pocketed Coil® springs, a Beautyrest World Class mattress from Simmons provides enough support to handle even the spikiest of Gaga heels. That way, the pop music megastar can stack some ZZZs or bounce around and get her groove on without ever leaving the privacy of her own bedroom. The Beautyrest mattress line's memory foam technology also provides unparalleled comfort, so Lady Gaga can roll around on top of it while gabbing with her fellow musical diva Beyonce on the "Telephone."
For more information on how to save up to 52% on a Beautyrest World Class mattress that's strong and comfy enough for even Lady Gaga, contact Home-and-Bedroom.com's Ben Weissman at (818) 370-3358. To see the Home and Bedroom's Beautyrest Classic Mattresses, Keetsa Mattresses and Ecomfort Mattresses, visit Home and Bedroom Furniture online at http://www.home-and-bedroom.com/beautyrest-by-simmons-mattress.html.
# # #