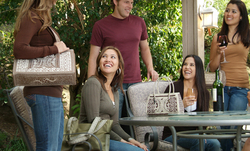 We are bringing an original piece of art and ancient history to the States for the very first time
San Francisco, Calif. (PRWEB) July 23, 2008
Laga Handbags (laga-handbags.com), a manufacturer and distributor that offers unique up-and-coming handmade bags and travel bags made by tsunami survivors, today announced the release of its hot new collection for the new season at the San Francisco International Gift Fair held at the Moscone Center from July 26-29, 2008. Laga will be featured at the North Hall in booth # 6216.
Co-Founder and CEO Roy van Broekhuizen says that it is important for Laga to participate at the SF Gift Fair so that attendees can see the beautiful bags that are truly considered a piece of art.
The bags are made with a simple treadle machine, and an average bag takes about a day to make.
"We are bringing an original piece of art and ancient history to the States for the very first time," says van Broekhuizen.
The Laga bags newest collection features some fabulous and strikingly unique embroidery reflecting traditional Acehnese design, passed down from generation to generation. The wonderfully creative patterns are enhanced to offer exceptional quality and value, a new contemporary flare without compromising authenticity.
You will definitely stand out from the crowd and it would not be a surprise if you are asked where you got your Laga bag. New designs are carefully selected for their original designs, unusual patterns and fabric, quality craftsmanship, and reasonable prices. And each design is made to be practical - even the smallest bags are large enough for items like cell phone, lipstick and credit card. And it definitely will not have that department store 'me too' look.
Laga Handbags was formed to provide income and hope for a better future for those who lost their livelihood, but what transpired is much, much more. Laga's founders, Roy and Louise van Broekhuizen, developed personal relationships with the people of Aceh, Sumatra, Indonesia, and we left our hearts in their homes.
About Laga Handbags
Roy van Broekhuizen started as tsunami Relief Coordinator January 3, 2005 for Saddleback church, Lake Forest, CA, the Sr. Pastor is Rick Warren, author of best seller "The Purpose Driven Life", immediately following the 2004 tsunami. His wife Louise started helping the cause in June 2005. Their vision is to help 1,200 tsunami survivors, they started with 12 in August 2006 and today they are able to support 150, mostly women that have lost it all. Extending far beyond just victims of tsunami, Laga ultimately hopes to touch generations of families and entire communities. For the betterment of humanity at large, Laga continues to grow, please visit laga-handbags.com or call toll free 1-888-LAGA-BAG.
"...when you buy a Laga bag you're not just getting a really beautiful handbag, you're investing in the future of a precious life…"
Watch Laga's TV interview on Irvine News
Contact: Roy Van Broekhuizen
714-623-3671
roy@laga-handbags.com
# # #