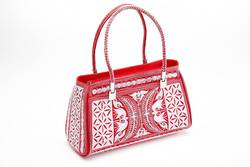 When we were looking to create a 2011 Limited Edition piece, we wanted a muse that would speak to the strength and courage of the hardworking women who work with us in Indonesia. Lady Gaga was the perfect fit
Irvine, CA (PRWEB) February 17, 2011
Online handbag retailer, Laga Handbags today announced its first Limited Edition design contest, using fashion icon, Lady Gaga as the artistic inspiration. The contest is open to all and entrants are expected to use Laga handbag design outlines, infused with 'Lady Gaga-like' design elements.
The 2011 Limited Edition Laga Handbag design contest runs for a month, from February 11th 2011 to March 13th 2011, with the winner being announced on March 17th 2011. In a bid to make this contest accessible to a wider audience, Laga handbags will be accepting entries via Facebook as well as on their website. Contestants must design a bag using any of the Laga handbag outlines from the website, and email or post the final design as a scanned drawing or Jpeg file.
"When we were looking to create a 2011 Limited Edition piece, we wanted a muse that would speak to the strength and courage of the hardworking women who work with us in Indonesia. Lady Gaga was the perfect fit because she embodies the empowerment and determination that the survivors we employ in Indonesia after the 2004 Tsunami possess and additionally our supportive customers who shop with us," says Laga founder Louise van Broekhuizen.
The winner of the 2011 Limited Edition Laga Handbag contest will receive a limited edition handbag along with an iTunes gift card to purchase Lady Gaga's latest single. They will also get the opportunity to work with Laga Handbags to promote the company and its many achievements. Laga handbags will also present a Limited Edition handbag to Lady Gaga.
Contestants must send in their submissions by midnight on March 13th 2011. No late entries will be accepted. The final winner will be chosen by Laga Handbag owners, Roy & Louise van Broekhuizen. The selected design will be handmade by women in Aceh, Indonesia and sold as exclusive limited edition pieces.
To upload your entry or learn more about the contest, please visit the Laga Handbags Facebook Page or simply email your submission to contests(at)lagahandbags(dot)com.
# # #