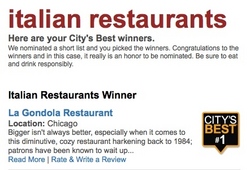 The Chicago restaurant scene comes with pretty stiff competition among Italian Restaurants, with many talented chefs
Chicago, IL (PRWEB) February 12, 2009
The people's votes are in and La Gondola Italian Restaurant takes the pie - no pun intended - to win the title of AOL's 2008 City's Best Italian Restaurant for offering the best pizza in Chicago along with homemade Italian specialties. AOL City's Best is an award given to a city's most popular destinations, voted on by AOL CityGuide users.
Offering award winning Chicago style pizza and authentic Italian dishes, La Gondola joins the ranks of Chicago's best eateries that have been recognized as AOL City's Best.
"The Chicago restaurant scene comes with pretty stiff competition among Italian Restaurants, with many talented chefs," said Andrew McGuire, owner of La Gondola. "It is a great honor to be recognized as the Chicago's best Italian restaurant, especially because Chicago is renown for its award winning authentic Italian food. We always thought we had the best pizza in Chicago and this proves it!"
As Chicago's best Italian restaurant, La Gondola is known to offer the freshest, family style Italian food and has been Zagat rated since 1991. Popular menu offerings include Chicago style pizza, Rigatoni Boscaiola, (a signature La Gondola dish of pasta, fresh mushrooms, Italian sausage, and sage) and Shrimp Diavolo Linguini (shrimp in a spicy tomato sauce over Linguini).
"We pride ourselves on offering only the most authentic Chicago style pizza and Chicago's best Italian food," said McGuire. "We want our guests to enjoy La Gondola's atmosphere, eat, drink, and be merry!"
About La Gondola Italian Restaurant:
Chicago's best Italian restaurant La Gondola is located at 2914 North Ashland Avenue and serves dinner daily from 4:00 to 11:00 PM. Offering Chicago style pizza and authentic Italian dishes, Owners Christi and Andy McGuire bought the restaurant from its founding owner in 2005. Due to loyal patrons craving La Gondola's freshly made sauces, the McGuires' decided to keep the original menu adding a few specialties along the way.
For more information about La Gondola Italian Restaurant or to order online visit lagondolachicago.com.
To connect with Andrew McGuire on LinkedIn, click here.
La Gondola Location:
2914 North Ashland Avenue
Chicago, IL 60657
(773) 248-4433
###