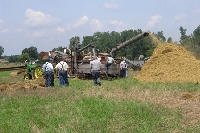 Shipshewana, Indiana (PRWEB) July 24, 2012
Summer visitors have already begun treading familiar paths throughout LaGrange County, Indiana. A vast array of events, including Amish furniture stores, the Midwest's biggest flea market, Amish delis and bakeries, and music events make LaGrange County a hot-spot for summer travelers. Here's a brief look at some late-Summer events:
July 27 & 28 – Old Fashioned Farming Days – Experience the old fashioned ways of farming all day at the Merv Yoder farm less than two miles East of downtown Shipshewana on Friday and Saturday. On Friday browse through and view all of the old farming equipment while it is on display. Stay until 5 pm Friday and watch the miniature pony pulling contest. Come back on Saturday to enjoy a big farming day meal served by a local Amish school.
July 28 – Park Your Horse – The 8th annual "Park Your Horse" celebrates the National Day of the American Cowboy. Families are invited to David Rogers Memorial Park for events including horse saddling, roping, shoe pitching, the Cap Gun Fast Draw Competition and "Culture of the American Cowboy" author Mark Redmond. Activities begin at 12:00.
August 3 – LaGrange County Habitat for Humanity Auction – For the 17th year, LaGrange County is hosting the Habitat for Humanity Auction. From 3:30pm-9:00pm, attendees can bid on hand-made quilts, antiques, gift certificates and other miscellaneous items. Delicious food, including a haystack supper, sandwich line, homemade ice cream, bake sale and 4-H beef and pork are available for all attendees. Come to the Shipshewana Auction Barn for a day of fun that will make a difference in the community!
To see more events in LaGrange County this summer, visit http://www.backroads.org. If you're interested in seeing solid wood Amish furniture, check out Brandenberry Amish Furniture, located in Shipshewana, Indiana.
About Brandenberry Amish Furniture:
Brandenberry Furniture features furniture custom-crafted in the heartland the Amish way. Many of the furniture pieces are exclusively designed and built for Brandenberry clients or the Brandenberry showroom in Shipshewana. LeRoy and Ida Weaver established their first Amish furniture store in 1989 in Shipshewana, Indiana, before opening Brandenberry Furniture in 2008. They maintain two family-owned and operated businesses offering a full line of solid wood furniture at affordable prices. In addition to providing a wide selection of home furniture, Brandenberry Furniture offers a range of services, including layaway and delivery options, custom furniture design consultation, price quotes and exclusive sales.