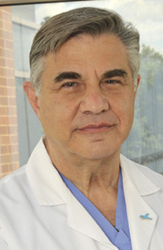 My colleagues and I involved in this study are very enthusiastic about the nearly threefold improvement in kidney function achieved in the patients whose tumors were removed as a result of this clampless surgery
Burlington, Mass. (Vocus) October 22, 2010
The Chairman of Lahey Clinic's Institute of Urology will present the findings of nearly 20 years of retrospective clinical data today in Providence, Rhode Island, at the 79th annual meeting of the New England Section of the American Urological Association demonstrating that long term kidney function is significantly improved in cancer patients when their kidney tumor is removed via a new "clampless" variation of the traditional surgical procedure known as a partial nephrectomy. During this new clampless surgery, perfected by John A. Libertino, MD, blood flow to the diseased kidney is never interrupted. As a result, the study to be presented demonstrates significantly improved kidney function for patients undergoing the clampless surgery.
"My colleagues and I involved in this study are very enthusiastic about the nearly threefold improvement in kidney function achieved in the patients whose tumors were removed as a result of this clampless surgery," said Dr. Libertino, chair of Lahey Clinic's Institute of Urology. "Because of the tumors in their only kidney, these patients' overall kidney function is already very compromised, putting them at risk for lifelong dialysis treatment. The traditional partial nephrectomy further taxes their organ by starving it of oxygen rich blood during the surgery. Research shows that our novel clampless technique maintains blood flow throughout surgery, improving long term kidney function."
In the time period from 100 to 365 days after surgery, the data demonstrate a nearly 30 percent improvement in renal function for those patients that underwent the clampless surgery. In addition, there was no difference in blood loss between the vessel contricted and clampless surgeries, nor was there any difference in the patient's length of stay after the operation.
During a partial nephrectomy, where blood flow to the kidney is clamped, surgeons must remove the cancerous tissue as efficiently as possible to minimize the time that the diseased kidney is deprived of blood. The clampless technique never compromises blood flow, affording the surgeon more time to ensure optimal tumor removal. As such, the data also show that the patients undergoing the traditional partial nephrectomy had a 21 percent rate of positive margins after the surgery, versus a 5 percent rate with the clampless approach.
About Lahey Clinic
Lahey Clinic, a physician-led, nonprofit group practice, is world-renowned for innovative technology, pioneering medical treatment, and leading-edge research. A teaching hospital of Tufts University School of Medicine, the Clinic provides quality health care in virtually every specialty and subspecialty, from primary care to cancer diagnosis and treatment to kidney and liver transplantation. For more information please visit our Web site at http://www.lahey.org.
Contact: Steve Danehy
Director, media relations
Communications & Marketing
Lahey Clinic
(781) 744-5440
steve(dot)danehy(at)lahey(dot)org
###