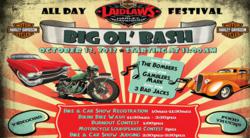 Los Angeles, CA (PRWEB) September 19, 2012
There are two kinds of customers at Laidlaw's Harley-Davidson Motorcycles in Baldwin Park, California; those who've been our customers for years and those who will be, according to Business Manager Joe de la Rosa, who is one of the organizers of the first-ever Laidlaw's Harley-Davidson "Big Ol' Bash", a customer appreciation event designed to bring both types of customers to the area's oldest and largest Harley-Davidson dealership located just 20 minutes from downtown Los Angeles.
"We host several events every year for various charities, interests and groups," said De La Rosa. "We decided we wanted to create an event just for us, so we organized the Big Ol' Bash".
Whether it's to help sponsor the annual Century Rolling Thunder Memorial Ride, which remembers deputies assigned to the Century Station near Los Angeles, or sponsoring the annual Ride for Autism, Laidlaw's Harley-Davidson regularly works with various groups to make their community a better place.
The 'Big Ol' Bash' will continue that tradition by reaching out to customers "Just to say thanks," Del La Rosa said.
The 'Big Ol' Bash' was organized to show Laidlaw's customers their appreciation and everyone is invited to enjoy an afternoon of entertainment, good music, food and fun on October 13th, 2012, starting at 11a.m. The event will feature the music of three amazing bands, "The Bombers," "Gambler's Mark" and "3 Bad Jacks," throughout the day.
During this event Laidlaw's has setup a full day of activities that you don't want to miss. Enter the Car and Bike show – register between 10:30 and 11: 30 a.m., Bikini Bike Wash 11:30 to 3:30p.m., Burnout Contest at 1p.m., Motorcycle Loud Stereo Contest at 2 p.m., and the Bike and Car Show judging is from 2:30-3:30p.m.
Other event co-sponsors include Law Tigers Motorcycle Lawyers, Jogasaki Sushi Burrito, The Greasy Weiner, where they serve up loads of fun on a bun, and Radio 103.9 FM.
Laidlaw's Harley Davidson is located at 1919 Puente Avenue in Baldwin Park, Calif., just 20 minutes from downtown L.A. Its landmark 70-foot-tall monument sign marks the spot of the Laidlaw's 45,000-square-feet, state-of-the-art building.
Preserving an open road way of life since its humble Rosemead, Calif., genesis in 1958, Laidlaw's Harley-Davidson has become one of the Los Angeles area's oldest and largest motorcycle dealers. Its family of professionals has sold and serviced thousands of new and used motorcycles to satisfy Harley owners. For more event information visit http://www.laidlawsharley.com today!