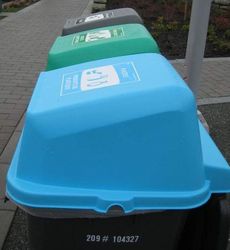 Laird Plastics was very pleased to have the opportunity to serve the Olympic Games with key plastic materials for such essential purposes as signage and containers...
Vancouver, British Columbia (PRWEB) February 26, 2010
The Vancouver division of Laird Plastics, a worldwide plastics distributing company, was named a main supplier of plastic materials for the 2010 Winter Olympic Games. Laird Plastics began its relationship with the 2010 Winter Olympic Committee over three years ago and have coordinated efforts for signage around the Olympic Villages and Venues as well as Waste Management lids for all waste containers. Laird has also committed to re-gathering the materials used at the Winter Olympic Games and having them re-purposed and/or recycled, saving thousands of pounds of plastic waste from reaching landfills.
Coroplast®, a preferred vendor of Laird Plastics, supplied the corrugated polypropylene plastic that was used for all directional signs on the grounds of the Olympic Villages and Venues. The signage on the crash pads used along the inside walls of the Richmond Olympic Oval skating rink were made of UltraPoplin™ PES240 a recyclable high grade knitted polyester yarn.
Michael McNaughton, Service Center Manager of Laird Vancouver, was one of the main relationship builders with the 2010 Olympic Committee. McNaughton has worked with the Vancouver Olympic Committee to ensure that all materials met the standards of the Olympic Committee. Laird Vancouver, along with 47 other service locations throughout the United States and Canada have recycling capabilities. "We are proud to have partnered with local businesses and the Olympic Committee in this World Event showcasing our beautiful city," said McNaughton.
Mark Kramer, CEO Laird Plastics, stated, "Laird Plastics was very pleased to have the opportunity to serve the Olympic Games with key plastic materials for such essential purposes as signage and containers. Plastics are an excellent solution when the objectives include increasing efficiency and reducing the impact on the environment."
About Laird Plastics
Laird Plastics, Inc. was founded in 1944 and is the leading independent plastics distributor in North America, with 48 Service Centers located across the USA and Canada. Laird distributes a complete range of semi-finished and finished products as a key market channel for many of the world's leading plastics manufacturers. In 2009, Laird Plastics created a North American Recycling Business Unit with a charter to reduce the volume of plastics that find their way to North American landfills. To learn more about Laird Plastics, please visit: http://www.lairdplastics.com
For more information please contact:
Name: Mark Steele
Phone: 561-443-9170
Fax: 561-443-9108
###