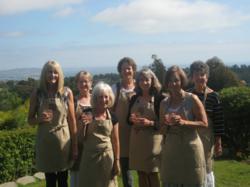 All I can say is WOW! The evening was beautiful, delightful and delicious. This was the highlight of our 'ladies' trip.
San Diego, Ca (PRWEB) August 10, 2011
Lajollacooks4u, a cooking and dining experience, was selected by seven ladies from Albuquerque, NM, who, for over 21 consecutive years, have taken a 'girls' trip to mark their unique circle of friendship.
Once a month the ladies each contribute to a kitty, saving for their annual getaway. The group has traveled extensively over the past 21 years, bonding while traveling together as a group before it was vogue for women to travel together. This year they selected La Jolla as their destination and contacted Chef Jodi, owner and founder of Lajollacooks4u, for their special group activity.
Each of the women had an incredible time in Chef Jodi's kitchen while sharing their heartwarming stories of their friendship. Many of the ladies are certified "foodies" who have cooked and shared recipes together. Along their life's path they have raised their children – there are 16 children and 6 grandchildren amongst the 7 ladies – and they have hosted 8 wedding showers together for their first born children.
When Chef Jodi received their inquiry she instinctively knew this was something special. "It was such a heartwarming evening with everyone sharing delicious food and wine together," said Jodi. "I was sad to see the evening end, but this is why I do what I do because I meet the most amazing people and have the privilege of sharing their stories and experiences," she said.
Each guest learned first-hand about California Cuisine while sampling a variety of olive oils and gourmet sea salts. For guests and Chef Jodi, the four hours went by too fast. "We all learned something that day," said Chef Jodi.
Guests started off their culinary event with appetizers of Focaccia with fresh pesto, grilled vegetables topped with feta cheese. There was also beautiful Mango and Avocado Salad with Spiced Nuts. This was followed by Creamy Asparagus soup, topped off with mini Parmesan cheese baskets and complimented with a Californian Luna Pinot Grigio. Rounding off the meal was a marinated Grilled Beef Tenderloin, accompanied with Orzo, olive oil and Lemon Juice and feta. This was served with a Robert Hall Cabernet. Dessert consisted of Chocolate Melting Cakes.
About Lajollacooks4u
Lajollacooks4u, founded in 2008, provides an ideal activity for couples, corporate team building and any foodie looking for a cooking and culinary experience in an ideal setting overlooking the Pacific Ocean. Lajollacooks4u recently expanded and now offers Farmer Market Tours and unique "Foodie" tours of San Diego. Based in La Jolla, a suburb of San Diego, CA, Lajollacooks4u has enjoyed record growth since its inception and has been ranked the number one attraction in La Jolla on the popular travel review site, Trip Advisor. For more information, contact Jodi Abel at jodi(at)lajollacooks4u(dot)com or phone 1-858-752-4980
###