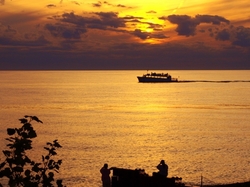 Benzie County, Michigan (Vocus) March 31, 2010
A brand new cruise boat offering tours along Northern Michigan's Sleeping Bear Dunes National Lakeshore will launch in June 2010. The new 149 seat cruise boat is appropriately named, "Lady Michigan". The new boat will offer daily trips and has glass bottom viewing areas built into it.
Sleeping Bear Dunes Boat Cruise began service in summer 2009. It is similar to the popular Pictured Rocks Boat Cruise company located in Lake Superior in Michigan's Upper Peninsula.
The Sleeping Bear Dunes Boat Cruise tours depart from Frankfort a major port city along Lake Michigan in Benzie County in the Lower Peninsula of Michigan.
Sleeping Bear Dunes Boat Cruise will offer daily mid-morning tours starting June 1 through October 18, 2010. Sunset cruises will also be available starting June 18 through September 30. See http://www.sleepingbeardunescruise.com or call 888-469-4696 for more information.
The new "Lady Michigan" will travel by the towering bluffs, expansive beaches, and gigantic sand dunes along the Sleeping Bear Dunes National Lakeshore. Three lighthouses and places that are hard to experience except by water can be viewed along the tour including the Point Betsie Lighthouse in Frankfort. and the legendary Crystal Downs Area where the famed private golf course designed by Alistar MacKenzie is located. Knowledgeable tour guides will explain the fascinating history of the area, how the dunes were created, and much more.
"Lady Michigan" is comfortably designed with an enclosed, heated main cabin, cushioned seats, restrooms and an open upper deck. The near 65-foot fiberglass boat has twin diesel John Deere engines which power state-of-the-art stabilizers to keep the boat steady, even in waves. Two deck hands and an experienced captain will manage the boat's operations. Tours last approximately 2 ½ to 3 hours.
Food may be brought on board and soda, water, and chips are available for purchase. (No alcohol is allowed). The Crescent Bakery in Frankfort will even deliver meals right to the dock!
Prices for the Sleeping Bear Dunes Boat Cruise are $33 for adults, $10 for children 6 – 12, and free for children 5 and under. Special group rates are available and on-site kennel services are available free of charge.
A travel promotion offered by Benzie County Visitors Bureau called Passport to Fun will be offered from May 1 – October 31, 2010 and includes a two-for-one ticket on the Sleeping Bear Dunes Boat Cruise along with other great values such as free or discounted food, restaurant, sightseeing, kayak and golfing opportunities when visitors stay for two consecutive nights at any participating hotel, b&b, or inn located in Benzie County. According to Mary Carroll, President of the Benzie County Visitors Bureau, "'Passport to Fun', which includes a two-for-one ticket on the boat cruise, offers real value to visitors worth over $150 in savings. We've been told by many that they love that their entire vacation is planned when visiting all of the sites offered through the 'Passport to Fun' promotion."
Benzie County is located along Lake Michigan's shoreline in the Lower Peninsula just 30 minutes southwest of Traverse City, Michigan. Benzie County, known for its natural beauty and outdoor recreational opportunities, is a natural vacation spot to visit the Sleeping Bear National Lakeshore and National Park. Travel to Benzie County is a day's drive or less from major Midwestern cities including Detroit (235 miles – 5 hours), Grand Rapids, (130 miles – 2.5 hours), Chicago (290 miles – 5.5 hours), Fort Wayne (295 miles – 5.5 hours) and Indianapolis (380 miles – 7 hours), as well as, Milwaukee (by way of the Lake Express Ferry from Milwaukee to Muskegon).
For more information about the PASSPORT to FUN package and to ask about a Benzie County vacation and the Sleeping Bear Dunes Boat Cruises, contact the Benzie County Visitors Bureau at 800-882-5801 or log on to http://www.visitbenzie.com.
# # #