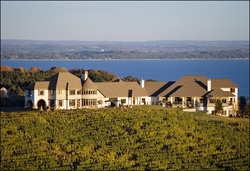 Grand Rapids, Michigan (Vocus) March 30, 2010
The onset of spring and the dream of lazy summer days makes everyone think of vacation. Those interested in a "foodie" vacation should consider the West Coast of Michigan along the Lake Michigan shore as a prime vacation choice in 2010. Not only is Western Michigan laden with beautiful scenery and wide sandy beaches, but also the food raised, grown and served on restaurant menus is among the best in the country due to the many farms, orchards and vineyards in Western Michigan.
According to Janet Korn, Vice President of Marketing for the Grand Rapids / Kent County Convention and Visitors Bureau, "Michigan's West Coast is among the top areas for growing and eating food, such as blueberries, goat cheese, asparagus, apples, cherries, fresh fish, organic lamb, gelato, wine and micro-beers. These are just a few of the foods grown and created in and around Western Michigan. Add to this a strong organic, farm-to-table philosophy and one-of-a-kind restaurants in this fertile region of the country."
A great source of information for the best places to stay and to dine all along this coastal region is GreatFoodandTravel.com. GreatFoodandTravel features hundreds of restaurants, one-of-a-kind inns and b&bs, as well as hotels all along the Lake Michigan Coast from the southern border to Mackinac Island. GreatFoodandTravel also has a map with regional destinations listed and information about area chefs who are culinary stars within the restaurant world. Wineries and Microbreweries are abundant in Western Michigan and are also included on GreatFoodandTravel.
Two historic destination hotels with numerous restaurants on property include:
The Amway Grand Plaza 4-diamond historic hotel in downtown Grand Rapid which is one-half hour away from Lake Michigan and within walking distance of numerous excellent farm-to-table restaurants. The Amway Grand Plaza itself has a 5-diamond restaurant – the 1913 Room – where guests are given outstanding service. The changing monthly menu offers seasonal specialties and an abundance of choices including a chefs tasting menu with choice of wine pairings.
Other top notch restaurants and bars at the Amway Grand Plaza Hotel include Cygnus 27 on the 27th floor offering globally influenced American entrees, and captivating scenic views of the Grand Rapids skyline, and the 1913 Grill Room, a classic American steakhouse serving grilled Prime steaks, seafood, and other meats and traditional steakhouse sides such as asparagus with Hollandaise sauce, creamed spinach, sautéed mushrooms, and a variety of fancy salads and appetizers.
The historic hotel bar at the Amway Grand Plaza Hotel is the Lumber Baron. The Lumber Baron is decorated with fine natural woods, a fireplace, and leather club chairs. They serve a large selection of premium drinks and appetizers.
A trip up north to Mackinac Island in the early seasons of the year in May and June will offer some of the best dining on the island at a nice time of the year other than peak season. The Grand Hotel, which is open from May 5 through October 25 in 2010, features numerous restaurants and bars. The two most elaborate are the Main Dining Room at the Hotel, and a restaurant called Woods, in the heart of the island available by taking a horse and carriage "cab ride" to get there. All transportation on Mackinac Island is by horse and carriage, bicycle, or on foot, as cars are not allowed on the island.
For more information about "foodie" vacation ideas to Western Michigan along the Lake Michigan coast visit GreatFoodandTravel.com.
###