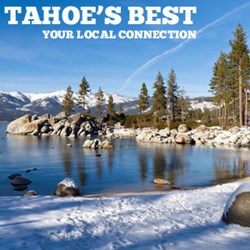 Lake Tahoe, California (PRWEB) February 26, 2013
It's time to start planning the big day, and there's no better place for a wedding than in Lake Tahoe. Beautiful venues on the lake with the mountains in the background, or in a charming wedding chapel in Lake Tahoe make this the perfect place to host an outdoor wedding this year. No matter what season the special day will fall in this year, consider Tahoe for the ceremony and honeymoon. TahoesBest.com has just revealed the best venues for a wedding, rehearsal dinner or special event in Lake Tahoe in 2014.
Lake Tahoe Beach Weddings
The Beach Retreat and Lodge at Tahoe is one of the best spots when you're looking for a romantic and beautiful venue for a beach wedding in Lake Tahoe. Set up the ceremony right on the beach, on the pier or even in the wedding chapel, which has sweeping views of the beach from the panoramic windows. This is a great spot for the who guest list to stay and enjoy all the things to do in Tahoe when everyone isn't busy with wedding events because it's close to so many great things like skiing Heavenly Mountain or getting out on beautiful Lake Tahoe! This is one of the best wedding venues in Tahoe for a beach wedding, no matter what season the special day is taking place in.
Lake Tahoe Hotels Weddings
Many of the best hotels, vacation homes and rentals offer great Tahoe wedding accommodations, and many make the perfect spot for the ceremony too. Many of the best hotels in Lake Tahoe have on-site venues for the ceremony, reception, rehearsal and rooms so all of the guests can stay close. Take advantage of the Tahoe wedding coordinators who work at the hotels, or independently to take even more stress out of wedding planning. They're here to help, and can easily make planning a Tahoe wedding at a hotel or anywhere else hassle-free.
Lake Tahoe Weddings on a Budget
Even a last-minute or low-budget wedding in Lake Tahoe can be beautiful, charming and so romantic. Many places offer low-budget options with beautiful venues that will make this an unforgettable day that everyone in attendance will remember, but without the costs that send newlyweds into debt. At Tahoe Weddings is one of the best value outdoor wedding venues in Tahoe. Host wedding ceremonies, receptions or any special event poolside or on the manicured lawn, and never worry about weather! They can make accommodations conveniently and beautifully, which is helpful because unpredictability is a concern for outdoor weddings.
Lake Tahoe Resorts Weddings
Choose from the many resorts in Tahoe for full service weddings at a breathtaking venue. Tahoe offers some of the best mountain scenery available, and resorts like the Lodge at Sugar Bowl or Northstar at Tahoe Resort both provide unforgettable mountain views. Summer weddings are beautiful and serene and winter weddings are ideal on these mountains! There's a beautiful outdoor garden at the Ridge Resorts in South Lake Tahoe perfect for a very special outdoor wedding ceremony.
Lake Tahoe Boat Weddings
Why settle for getting married in Lake Tahoe when you can get married on Lake Tahoe? Say I do on one of the exciting and romantic Lake Tahoe cruises with Tahoe Bleu Wave Weddings. They also provide one of the most unique wedding reception venues in Tahoe. There's no better way to celebrate newlyweds than on a 70 foot yacht, right? Breathtaking views, gourmet food and plenty of room for up to 49 guests for the reception, ceremony, rehearsal dinner or brunch.
About TahoesBest.com:
The skiing and snowboarding in Lake Tahoe is arguably the "Best in the West" and TahoesBest.com is the authority in reporting snow conditions, weather updates and all the best upcoming things to do in Lake Tahoe for winter enthusiasts. Use Tahoesbest.com to find information, reviews and deals on all things Lake Tahoe from ski reports to vacation rentals.