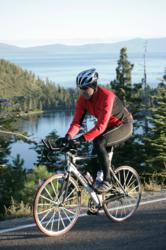 Lake Tahoe, Calif./Nev (Vocus/PRWEB) March 23, 2011
Cycling enthusiasts can ride the route during the Start at the Top – Lake Tahoe Legends Ride, Saturday, May 14, and explore majority of the first lap of the 2011 Amgen Tour of California (http://www.TahoeAmgenTourofCalifornia.com) Stage 1. The tour is considered the largest cycling event in North America as the peloton races nearly 800 miles and visits 15 cities in eight days, attracting approximately two million spectators.
The Legends Ride allows participants to ride the Stage 1 course of the 2011 Amgen Tour of California and pedal elbow to elbow with cycling legends and dignitaries, including Bobby Julich, Sky ProCycling Race Coach and 2004 Olympic Bronze Medalist; and John Howard, who rode on the 1968, 1972 and 1976 Olympic Teams, set the world 24-hour cycling distance record of 593 miles and finished second in the Race Across America (1982), which he co-founded. Other legends include Max Jones, Mike Neel, David Brink and Roland Della Santa.
The Legends Ride is produced by TGFT Productions and Bike the West and is fully supported with rest stops, technical support, first aid and support and gear assistance. Options include a 72-mile roadway route around Lake Tahoe and a 35-mile ride that transfers participants from South Shore to North Lake Tahoe via the Tahoe Queen paddle wheeler to cycle around East Shore and finish in Stateline, Nev. A sightseeing boat cruise is available for non-cyclists.
The event is open to the first 1,000 cyclists who sign-up online by April 30. Registration is $125/person for the 72-mile ride, and $140 /person for the Boat Cruise +35-mile option, which is expected to sell out.
Pre-registered participants will receive a Lake Tahoe welcome bag with a commemorative event number, wrist-band, water bottle, ride pin and t-shirt. They also have the benefits of food and beverages at rest stops along the route, lunch and an after ride pasta feed with live music.
The Start at the Top – Lake Tahoe Legends Ride is supported by the Lake Tahoe Visitors Authority and the North Lake Tahoe Resort Association as well as cycling clubs, organizations and advocacy groups in and around the Lake Tahoe region: The Alta Alpina Cycling Club, Alta Alpina Challenge – Riding the Wild Sierra; the Lake Tahoe Bicycle Coalition – Tahoe Bike Challenge: the North Lake Tahoe Music Dept., the Tahoe Sierra Century Ride: the Tahoe Area Mountain Bike Association and the Nevada Bicycle Advisory Board.
Check-in for pre-registered cyclists and late registration is Friday, May 13, 10 a.m. – 8 p.m., at the Horizon Casino Resort Convention Center Ballroom in Stateline, South Shore Lake Tahoe. Confirmation number and identification are required to pick up materials.
Late and same day registration is May 14, will be in Parking Lot C of the Horizon Casino Resort, from 6 – 7 a.m. For details about start times and location, visit to http://www.BiketheWest.com.
TGFT Productions / Bike the West also produces the 20th Annual America's Most Beautiful Bike Ride - Lake Tahoe, June 5; Tour of the Carson Valley - Barbecue & Ice Cream Social, June 26; Tour de Tahoe - Bike Big Blue, September 11 and 20th Annual OATBRAN - "One Awesome Tour Bike Ride Across Nevada, Sept 25-Oct 1. For more information, visit BiketheWest.com.
The 2011 Amgen Tour of California will cover nearly 800 miles and visit 15 Host Cities for official stage starts and finishes, while other cities along the route also will have the opportunity to witness the excitement of elite professional cycling. Stages for the 2011 Amgen Tour of California include:

Stage 1: Sunday, May 15 – South Lake Tahoe to North Lake Tahoe-Northstar at Tahoe Resort
Stage 2: Monday, May 16 – North Lake Tahoe-Squaw Valley USA to Sacramento
Stage 3: Tuesday, May 17 – Auburn to Modesto
Stage 4: Wednesday, May 18 – Livermore to San Jose
Stage 5: Thursday, May 19 – Seaside to Paso Robles
Stage 6: Friday, May 20 – Solvang Individual Time Trial
Stage 7: Saturday, May 21 – Claremont to Mt. Baldy
Stage 8: Sunday, May 22 – Santa Clarita to Thousand Oaks
For best viewing points, where to catch the riders up close, a complete list of events (including the Tahoe 10-Day Countdown leading up to the race) and lodging accommodations, click to http://www.TahoeAmgenTourofCalifornia.com follow us on Twitter and Facebook. For details about the Tour and information about volunteering, visit http://www.amgentourofcalifornia.com.
The Amgen Tour of California Media Contacts:

AEG: Michael Roth; 213-742-7155; mroth(at)aeg-la(dot)com
GolinHarris: Erin Barrier; 213-438-8707; ebarrier(at)golinharris(dot)com
Lake Tahoe Sponsorship Contact:

Les Pedersen, lpedersen(at)destinationhotels(dot)com,
Michael Milthorpe, michaelmilthorpe(at)milthorpesports(dot)com, (386) 673-4377
Lake Tahoe Interview Contacts:

Carol Chaplin, Executive Director, Lake Tahoe Visitors Authority: carol(at)ltva.org, 775-588-5900 ext. 302, 775-790-5787 (cell)
Andy Chapman, Tourism Director, North Lake Tahoe Resort Association: andy(at)puretahoenorth(dot)com, 530-581-8709, 530-448-9992 (cell)
Lake Tahoe Media Contacts:

Phil Weidinger or Jenn Boyd, Weidinger Public Relations, 775-588-2412, 702-278-1932 (cell) jennifer(at)weidingerpr(dot)com
Pettit Gilwee, Pettit Gilwee Public Relations, 530-525-1164, 530-412-2077 (cell), pettit(at)gilweepr(dot)com
About the Amgen Tour of California
The largest cycling event in America, the 2011 Amgen Tour of California is a Tour de France-style cycling road race, presented by AEG, that challenges the world's top professional cycling teams to compete along a demanding course from May 15-22, 2011.
About Amgen
Amgen discovers, develops, manufactures and delivers innovative human therapeutics. A biotechnology pioneer since 1980, Amgen was one of the first companies to realize the new science's promise by bringing safe and effective medicines from lab, to manufacturing plant, to patient. Amgen therapeutics have changed the practice of medicine, helping millions of people around the world in the fight against cancer, kidney disease, rheumatoid arthritis, and other serious illnesses. With a deep and broad pipeline of potential new medicines, Amgen remains committed to advancing science to dramatically improve people's lives. To learn more about our pioneering science and vital medicines, visit http://www.amgen.com.
About AEG
AEG is one of the leading sports and entertainment presenters in the world. AEG, a wholly owned subsidiary of The Anschutz Company, owns or controls a collection of companies including facilities such as STAPLES Center, The Home Depot Center, Sprint Center, The O2, Nokia Theatre L.A. LIVE and Times Square's Best Buy Theater; Square; sports franchises including the Los Angeles Kings (NHL), two Major League Soccer franchises, two hockey franchises operated in Europe, management of privately held shares of the Los Angeles Lakers, the Bay to Breakers foot race and the Amgen Tour of California cycling road race; AEG LIVE, the organization's live-entertainment division, is a collection of companies dedicated to all aspects of live contemporary music performance, touring and a variety of programming and multi-media production. For more information, visit AEG today at http://www.aegworldwide.com.
About the Lake Tahoe Visitors Authority
Set at 6,300', South Lake Tahoe is the only destination in the country that combines two strikingly different worlds: spectacular natural beauty and desirable resort amenities. The combination of outdoor summer activities includes hiking, biking, kayaking, golfing, swimming, fishing and boat cruises along with 24-hour nightclubs, fine dining, gaming and entertainment. For information about lodging, recreation and family packages at Lake Tahoe South Shore, call the Lake Tahoe Visitors Authority, 1-800-AT-TAHOE (1-800-288-2463) or log onto http://www.TahoeSouth.com.
About NLTRA
North Lake Tahoe is a 45-minute drive from the Reno Tahoe International Airport, two hours from Sacramento International Airport and just over three hours from San Francisco International Airport. For lodging reservations, recreation and event details, call North Lake Tahoe at 1-877-949-3296 or visit http://www.GoTahoeNorth.com. Visitor information centers are located at 380 North Lake Boulevard in Tahoe City and 969 Tahoe Boulevard in Incline Village. The North Lake Tahoe Visitors Bureaus, Incline Village Crystal Bay Visitors Bureau and the North Lake Tahoe Resort Association, work together to promote North Lake Tahoe as a premier, year-round destination.
###