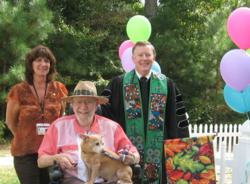 Pets not only bring love and joy to their owners, but studies have shown therapeutic benefits from owning animals.
Suffolk, VA (PRWEB) October 22, 2012
Wagging Tails Trail dog park recently opened at Lake Prince Woods retirement community in Suffolk, Virginia. A pet-friendly community, Lake Prince Woods has more than 20 dogs and about a dozen cats who share homes with their owners at the 172-acre wooded campus.
Several pets and their owners participated in the Blessing of the Animals service held by Spiritual Life Director Rev. Dr. Woodie Rea prior to opening the park.
"This is a great place for Buddy to play," noted Bill Wyatt about his chihuahua and best friend. "We'll probably come here every day."
"Pets not only bring love and joy to their owners, but studies have shown there are therapeutic benefits to owning or regularly being with pets," noted Executive Director Judy Raymond.
Significant health benefits have been shown in senior adults who own or are around pets on a regular basis. The "Journal of the American Geriatrics Society" in May, 1999, published a study that demonstrated senior adults living on their own who have pets tend to have better physical health and mental well-being than those who don't have pets. Another study showed residents in a nursing facility who had access to many types of animals had a 15 percent lower mortality rate than in traditional nursing homes.
Caring for pets -- walking, grooming, and feeding them, playing and petting -- need to be done on a daily basis. This requires some physical activity on the part of the owner. Pets also help people keep to a regular daily routine.
For persons who have limited mobility and can't leave home easily, a pet provides stimulation and a chance to interact. Caring for a pet can give a senior adult purpose, a sense of responsibility, and a reason to get out of bed every day.
Lake Prince Woods is a residential retirement community offering an array of lifestyle choices. Located in Suffolk, Virginia, the community is nestled among 172 lovely wooded acres bordering Lake Prince. As a continuing care retirement community, Lake Prince Woods offers residential living, assisted living, memory care, and skilled nursing care. To learn more, visit the website http://www.lakeprincewoods.org.