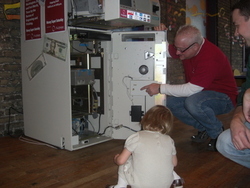 Teaching our children about money is an investment in the future of our community.
Lansing, Michigan (Vocus) October 30, 2010
Lake Trust Credit Union will partner again with Lansing's local children's science museum, Impression 5 Science Center, to host the third annual Money Super Saturday – a specially-designed day of fun and educational money-themed activities for kids. The event will take place on Saturday, November 6 from 10:00 a.m. to 4:00 p.m. at Impression 5 Science Center located at 200 Museum Drive, Lansing.
More than 350 visitors joined Lake Trust for Money Super Saturday last year. This year, visitors of all ages will enjoy plenty of activities including the always popular Money Bingo, Panning for Gold and the Penny Journey. Guests can also explore the inside of a real, working ATM, wind their way through 12 money-themed activities, and have an opportunity to visit with special guest, Abraham Lincoln.
The Science Center offers other hands-on exhibits ranging from the simple to the not-so-simple, like the Center's new Magnetoscope exhibit, where kids can make magnetic nanoparticle-infused liquid defy gravity.
"Teaching our children about money is an investment in the future of our community," said Stephan L. Winninger, Lake Trust's CEO. "Our partnership with Impression 5 Science Center complements Lake Trust's financial education efforts. Kid-friendly events like Money Super Saturday reach young people in a fun and easy-to-understand way that will produce informed consumers."
Through Lake Trust's sponsorship of the event, Impression 5 and Lake Trust members will receive free admission. And, all other visitors will enjoy half-off admission ($2.50) all day.
"We are fortunate to partner with Lake Trust Credit Union for the fourth year on Money Super Saturday! Every year this family-friendly event has drawn hundreds of visitors to downtown Lansing for a dynamic, scientific, and educational experience," said Erik Larson, Executive Director of Impression 5 Science Center.
To learn more about this exciting day of learning, Lake Trust at laketrust.org or Impression 5 at Impression5.org
About Lake Trust
Lake Trust Credit Union, as Michigan's fourth largest credit union and headquartered in Lansing, stretches from Lake Michigan to Lake Huron and Lake Erie. More than $1.6 billion in assets and 21 branches strong, Lake Trust provides its almost 158,000 members best-in-class products and offers individualized, trust-based member service. Membership is open to anyone within its 35-county service area. Learn more about Lake Trust Credit Union at laketrust.org.
About Impression 5 Science Center
Impression 5 is a hands-on, informal learning environment that challenges people of all ages to explore, discover and experience the scientific world in which they live. This mission is achieved through the creation and delivery of interactive exhibits and participatory educational programs. Impression 5 was founded in 1972 through a grass-roots effort of community volunteers that believed science is best explored when people have the ability to choose what they want to learn about and when they want to engage in that learning. Impression 5 is a federally recognized 501(c)3 non-profit organization that does not receive any unrestricted funding from City, State, or Federal government. The Science Center achieves its mission through the hard work of approximately 30 staff members and over 200 volunteers! For more information, visit: http://www.impression5.org
Contact:
Linda Fliehman
517.267.7172
lfliehman(at)laktetrust(dot)org
# # #