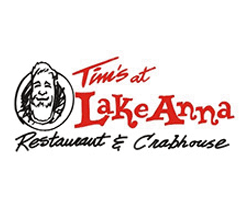 We want to get to know everyone who will be frequenting our Lake Anna restaurant, and let them know that we are working hard to make their dining experience a great one
Louisa County, Virginia (PRWEB) November 07, 2012
Founded in the spring of 2012, Tim's at Lake Anna is a family style dining restaurant and crabhouse located on the banks of Lake Anna near Mineral, Virginia. The company launched a new website this week that is focused on providing information about their business, Lake Anna, and fostering communications with their base of customers.
A new installment to the ring of businesses serving one of Virginia's largest freshwater lakes, Tim's at Lake Anna is the latest restaurant to be opened by Tim Bauckman, proprieter of Tim's Rivershore Restaurant & Crabhouse, located on the Potomac River in Dumfries, Virginia. "Many long-time patrons of our other two restaurants have been asking us for years to open a location at Lake Anna. Some of them have faithfully driven up to two hours from their homes to dine at either of our locations, now they won't have to," said Bauckman.
Their new website was developed by Advanced Web, a Virginia-based web development firm, and features a format that allows patrons to easily interact with the restaurant's management staff. "We want to get to know everyone who will be frequenting our Lake Anna restaurant, and let them know that we are working hard to make their dining experience a great one," said Amy Riggleman, General Manager.
The website displays their menu, upcoming events information, live music schedules, food specials, seafood and crab availability and pricing, photos, videos, and more. "Our goal was for the new site to present any kind of information our customers may be looking for, and give them an easy route for communicating with our management staff," said Riggleman.
For the latest information from Tim's at Lake Anna, you may visit their website at http://timslakeanna.com, or visit their Facebook page at http://www.facebook.com/TimsLakeAnna.
Tim's at Lake Anna is a new seafood and American family style dining restaurant located near Mineral, Virginia, on the shores of Lake Anna. Accessible by car or boat, Tim's at Lake Anna offers a unique waterfront dining experience with focus on great food and excellent customer service. Marketing and web services for Tim's at Lake Anna are performed by Advanced Web, a Virginia web design firm.