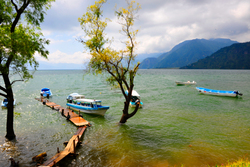 "We hope that visitors to Guatemala will take full advantage of this beautiful scenic route...
New York, NY (PRWEB) November 18, 2010
The Guatemala Tourism Board (INGUAT) announced today that the road from Guatemala City to Lake Atitlán remains open and accessible by tourists and locals alike. Road work construction was started on October 26, 2010 to expand lanes on a section of the road and will continue until mid-December. This portion of the highway starts about two hours from Guatemala City and continues through the Antiplano and will end in the city of Panajachel and will be named the "Route to the Country Side." It will open in time for the holiday season this December. All original lanes of the road, however remain open.
"The Route to the Country Side, is one of Guatemala's most important tourism products, and we are consistently working on making the trip accessible, comfortable and secure," said Nicole Rohrmann, Director of Marketing for the U.S.A. and Canada at Guatemala Tourism Board. "We hope that visitors to Guatemala will take full advantage of this beautiful scenic route and enjoy the stunning natural landscape and cultural attractions of the region."
The new promotional route through Guatemala's Altiplano is a cultural journey through ancient, rich Maya traditions. The region is teeming with towns where the Maya heritage is kept very much alive and where visitors can immerse themselves in this mystical experience. The Altiplano region is also home to some of Guatemala's most stunning natural beauty, including Lake Atitlán and numerous volcanoes.
Panajachel is the largest city on the shores of Lake Atitlán, where tourism dominates the economy. It serves as a base to visit the numerous indigenous villages around the lake, each with their own distinct culture. But Panajachel is also the ideal place to just hang out and relax, with its dramatic views over three volcanoes that reflect on the waters of Lake Atitlán.
Some of the Panajachel's main attractions are:

Museo Lacustre Atitlán - This museum displays the geology behind the formation of the lake and has exhibits tracing the history of the region back to precolonial times
Reserva Natural Atiltán - A nature reserve with trails that loop through a small river canyon, an herb garden, a butterfly atrium, and enclosures of monkeys and coatimundis
Shopping in Calle Santander and at the main market (mostly fruits, vegetables and animals, every Thursday) in the old town, next to the Catholic Church
Visits to the nearby towns of San Juan La Laguna, Santiago de Atitlán, Santa Catarina Palopó and Sololá which all have highly developed arts, crafts and textile traditions
Outdoor activities around the lake include boating, fishing, paragliding, scuba diving, swimming, and two-wheel touring
For more information on Guatemala please visit http://VisitGuatemala.com
INGUAT is the governing entity responsible for tourism in Guatemala. Its main objective is to promote, support and sponsor internal and inbound tourism, while highlighting the country's natural and cultural treasures. INGUAT offers a tourist assistance service to individual travelers who require it as well as providing support to tour operators with any tour groups they bring to the country. INGUAT is headquartered in Guatemala City and has an office in New York. Media can also follow INGUAT's latest developments on Facebook.
###