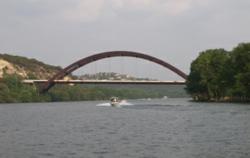 Lake Austin is one of the main reasons that I live in Austin Texas.
(PRWEB) May 23, 2011
Brian Talley, the owner and real estate broker of Regent Property Group LLC, has launched a new website focused on Lake Austin homes for sale. In addition to providing a comprehensive list of homes for sale, the website provides a wealth of practical information with facts and figures about Lake Austin such as the length of the river, the average water level, and the property tax rate range. Additional information on the website includes a list of boat ramps, marinas, boat rental companies, restaurants, and a long list of Lake Austin photos. The website can serve as a one stop shop for those home buyers getting familiar with the lake while searching to identify the home of their dreams on Lake Austin.
With a true passion for lake life in Austin Texas, Brian Talley has built his business around helping customers buy and sell Lake Austin homes. Brian explains, "Lake Austin is one of the main reasons that I live in Austin Texas. I've cherished my time on the water over the years, whether I was boating, enjoying a meal, or spending precious time with my family. My life memories have been somewhat molded by my time on Lake Austin, which is where I found my passion to help Lake Austin home buyers."
While enjoying the lake can be shared by just about anyone, living on the lake is reserved for a select few who can afford some of the most expensive real estate in Texas. In continual transition, Lake Austin sports a variety of homes from the old and decrepit to sprawling luxury estates. Old lake houses and vacant properties have mostly been replaced with luxury mansions and fine amenities such as pools, boat docks, and small beaches or expensive bulkheads. For home builders, quality lots and tear down opportunities are few and far between.
Austin REALTOR® Brian Talley points out, "There is very little consistency surrounding Lake Austin properties, which are located in 7 different zip codes, 4 school districts, and multiple taxing authorities. Some homes are serviced by city utilities while others are serviced by private utility companies or municipal utility districts. For water, many property owners pull water directly from the ground while others pull water directly from the lake. Many properties are located somewhere within the 100 year floodplain and are subject to strict development rules including setback and water quality restrictions to name just a few. Constructing or rebuilding a home or boat dock on the lake can be a monumental and costly challenge. Low supply of homes for sale on the lake can make it a challenge to find the perfect home to buy. For these reasons, it is important to work with a REALTOR® that is knowledgeable in working with Lake Austin properties."
With the complexity of these lake properties, there are very few online resources dedicated to Lake Austin. As such, the new website http://www.homeslakeaustin.com is a refreshing and accommodating source of information for Lake Austin home buyers.
###