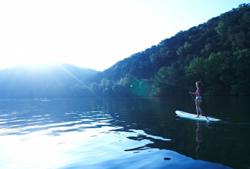 The Sunday-Thursday QUENCH program will be offered four times in 2012: June 24-28, July 15-19, August 19-23, and September 16-20, 2012.
Austin, Texas (PRWEB) March 30, 2012
Encouraging guests to step out of their spa robes and into the cool waters of Lake Austin is not a difficult task at the award-winning lakefront destination spa in Austin, Texas. But it's not only the lake that draws water enthusiasts to Lake Austin Spa Resort. A new four day program called, QUENCH highlights water themed activities such as Stand Up Paddleboarding, Aqua Zumba, sculling, kayaking, boat cruises and Hydro-biking as well as cooking demonstrations, spa services, craft classes and motivating discussions given by Olympic champions and water sports experts who will excite and inspire beginner and experienced water enthusiasts to quench their desire for an array of water adventures. It is the first program of its kind, wrapping more than 25 water themed activities into a spa vacation.
Several activities take place in the Pool Barn – one of three pools at the resort – which is a free-standing structure surrounded by lush Texas landscaping that is home to a Junior Olympic length lap pool where guests can book private swimming instructions and learn to overcome their fear of the water. Water aerobics, Aqua Zumba and Ai Chi Water Relaxation will all be available to overnight guests during QUENCH. Ai Chi Group Water Relaxation combines deep breathing with slow, broad movements of arms, legs and torso in the soothing waters to develop balance and harmony between breath and body. Ai Chi provides improved mobility, relaxation, circulation and sound sleep.
Other activities include a Sunset Smoothie Cruise, Wine and Watercolor workshop, wakeboard demonstrations, PiYoChi, How to Make Herbal Bath Teas, Bath Salts and Sugar Scrubs and Dive-In Movie Night to name a few.
Lake Austin, located just 35 minutes west of downtown Austin, features constant water levels controlled by the Lower Colorado River Authority. The lake will be the sight of the cardio program, featuring Laird Stand Up Paddleboards, one of the hottest new fitness crazes. Early in the program, spa visitors will learn the basics of stand and paddle--correct paddle technique starting with sizing paddles, paddle grip, correct board stance, paddle stroke & skills, turning the board and board balance.
After learning the basics, guests will have a chance to test their balance with inventive classes such as ABS-olutely Paddleboarding – a group class that features core and abdominal workouts while floating on water, Sunrise Stand Up and Paddle Stretch and Yoga, and a Boat to Paddle Excursion that blends the serenity of a boat cruise on Lake Austin with a two-hour paddle workout. Paddlers will enjoy morning sightings of birds and wildlife while standing atop the peaceful waters. In a more strenuous "Paddle Fit" class, participants will use a stand and paddleboard as a platform for a core, cardio and body strength "boot camp" workout. A dive into the lake's cool waters will be a welcome reward.
For both a workout and relaxation, PiYoChi intertwines the large muscle influence of yoga, the isolated muscle initiation of Pilates, and the round, flowing movements of Ai Chi.
On the relaxation side of the QUENCH program, the spa will feature its new "Little Drops of Rain" raindrop therapy. Nine essential oils are sprinkled along the spine to melt away tension in the back and neck. Other water inspired treatments include the Aromatherapy Sea Bath and Deep Sea Wrap and Bath.
Providing motivation throughout the program will be a succession of outstanding athletes:
Josh Davis took three gold medals at the 1996 Atlanta Olympic Games and captained the USA men's swim team at the Sydney Olympics in 2000.
Whitney Hedgepeth is a medal winner at three different Olympics, three-time NCAA champion swimmer and All American at the University of Texas.
Katie Spotz spent 70 days at sea and at the age of 22, became the youngest person ever to row an ocean solo. She works with Blue Planet Run Foundation to help billions of people gain access to safe drinking water.
Terri Mitchell has committed her life to aquatic fitness, therapy and wellness for more than 25 years. She is a personal trainer for both land and water.
Cindy Present holds a Masters degree in Exercise Physiology & Health Promotion from The University of Texas and specializes in Paddle Fit and & SUP Group & Individual Coaching.
The Sunday-Thursday program will be offered four times in 2012: June 24-28, July 15-19, August 19-23, and September 16-20.