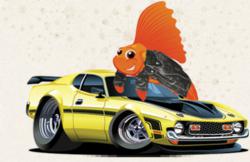 This was so well played by LA. They basically just got a starting point guard for next to nothing.
Los Angeles, CA (PRWEB) March 16, 2012
RoadFish.com men's lifestyle and finance magazine expresses its excitement over the Lakers' acquisition of point-guard Ramon Sessions in a recent trade with the Cavaliers. The Lakers traded forwards Jason Kapono and Luke Walton for much-needed point-guard Sessions, who the Lakers have been eying for months, and forward Christian Eyenga. The trade also came with a price tag of one lottery-protected first-round pick in the upcoming draft, which the Lakers traded to the Cavs along with Kapono and Walton.
ESPN's Brian Kamenetzky reports that this is an incredibly smart move for the Lakers. He points out that the Lakers' point guards have averaged 12 points per game combined thus far in the season, clocking in at the NBA's lowest figure for this stat. Ramon Sessions alone averages 10.5 points and 5.2 assists per game, and he's been playing an average of 24.5 minutes since the Cavs obtained rookie point-guard Kyrie Irving and have been playing him for Sessions. Kamentetzky maintains that the Lakers have improved themselves at their weakest spot- the guard position- without giving up any "truly significant assets."
An article by the Detroit Free Press sheds light on another advantageous move for the Lakers in this trade: L.A. unburdened itself of Luke Walton's hefty contract, signed back in the day when he was a contributing player. Previous injuries resulted in Walton falling out of rotation for this season, and he in turn has not spent any significant time on the court in the past three seasons. Walton's contract has him locked in at a $5.68 million salary this year and $6.1 next year. Likewise, the Lakers unloaded Jason Kapono, who spent significant time on the bench this season and averaged 2.0 points per game so far.
RoadFish.com's Senior staff writer is quoted as saying, "This was so well played by LA. They basically just got a starting point guard for next to nothing. I can see what the Cavs are doing though—they know they don't have a shot at winning this year, so they're building for the future. They've got Irving and now, with another first-round pick, they've got a shot at a really stellar team for next season. But, man, the Cavs just gift-wrapped exactly what L.A. needed, a point guard, and handed him over."
Stats-wise, the Lakers got the better end of the deal with the trade. 22-year-old Christian Eyenga, the 6 foot 7 inch forward from the Congo, averages 6.9 points per game and 2.9 rebounds. 25-year-old point-guard Ramon Sessions boasts 11.1 points per game, 3.1 rebounds, and 4.9 assists. Walton and Kapono, acquired by Cleveland in the trade, have average stats: Kapono averages 6.9 points per game and 1.7 rebounds, Walton, 4.9 points and 2.9 rebounds.
Ramon Sessions will join Lakers guards Derek Fisher and Steve Blake, although Sessions boasts a higher shooting statistic than both Fisher and Blake combined. Blake has averaged 4 points per game and 2.1 rebounds with the Lakers, and Fisher has logged an average of 6.8 points and just under 2 rebounds per game. The new acquisition of Sessions and his shooting average might be what the Lakers need to go far for the remainder of the season.
RoadFish.com is excited to see how the rest of the Lakers season will unfold, and predicts, "the Lakers will start Sessions, no doubt about it. Let's face it, Fisher is a horrible defender and Blake is okay, but he's just a backup. In the end, I guess both teams got what they wanted—the Lakers are prepped for the rest of this season, and the Cavs are looking good long-term. Great trade."
The Los Angeles Lakers are scheduled to play the Minnesota Timberwolves in their next game on Friday, March 16th and the Cleveland Cavaliers next play on Sunday, March 18th against the Atlanta Hawks.
About RoadFish.com
RoadFish.com is an online men's lifestyle and finance magazine targeted toward men in their 30's and 40's that have already attained a moderate level of success in life, and are striving toward more. It goes over current events of interest to this group, such things as exciting adventures, making money, consumer interests, hot chicks, and dating tips, as well as ways to make more and save more money. It is a publication owned by Purpose Inc.
###