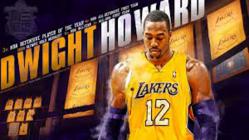 Pittsburgh PA (PRWEB) October 04, 2012
The L.A. Times is already predicting a 2012-13 LA Lakers NBA Championship, despite the fact that training camp is still almost a week away. While the L.A. Times may have a bias towards their Lakers, the combination of Dwight Howard and Steve Nash in the starting lineup could bring about another season like those during Phil Jackson's last years as head coach from 2007-11. LA Lakers tickets are historically some of the fastest selling NBA tickets; they sold 626,901 last season, the 8th highest sales in the league.
The LA Lakers will kick off the 2012-13 preseason against the Golden State Warriors at Save Mart Arena on October 7th, 2012 in Fresno, California. The Lakers will return for their first home game on October 13th, against the Utah Jazz. The regular season will begin with a rivalry game against the L.A. Clippers at Staples Center in Los Angeles on November 2nd. The Lakers will play again two days later, at home against the Detroit Pistons. All preseason and regular-season LA Lakers tickets have been released for sale to the general public.
While the LA Lakers starting lineup is one of the most impressive lineups in the NBA by the numbers, the players are also older than many of the teams set to play next season. Injuries could therefore become a major hurdle for the Lakers. The Lakers will, however, have plenty of time to recover from early-season injuries before one of their most anticipated games next season – their February 7th meeting with the Boston Celtics. The Celtics and Lakers have played each other in the NBA Finals twelve times in their histories. The LA Lakers defeated the Celtics in the 2010 NBA Finals the last time the two teams met in the last round of the championship.
Secondary ticket websites like HeadlineTickets.com offer fans an alternative source for LA Lakers tickets, especially suited for those shut out of the public sale. In addition, secondary ticket websites can offer low prices after fees and delivery compared to other ticket resellers.
About Headline Tickets
Headline Tickets Now is one of the most popular secondary ticket exchanges on the Internet, with tickets available for sports, theater, and concert venues across the United States and Canada. Search the site for local entertainment in your area at prices that competitors can't match.