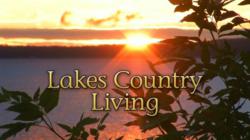 Although filmed in Minnesota, the subject matter has a broad appeal that goes beyond state lines.
Brandon, Minnesota (PRWEB) October 17, 2012
In 2010 Stephen Henning, a nationally recognized landscape painter, was awarded a large grant through Minnesota's Legacy Fund to create educational videos about 13 artists and arts organizations. A funny thing happened along the way to production, however – a television show was born.
Lakes Country Living is a half-hour video magazine focused on unique and overlooked stories of rural Minnesota. Henning started by filming some of the talented and unique artists scattered throughout the western half of the state. "The concept was to take the camera into the artists' creative spaces, and talk with them about their techniques and what inspires them, to go beyond art on the wall and get into their heads a little bit," Henning recalls. "Who could be more qualified to ask questions of an artist, than another artist?"
As he began producing videos about the arts, Henning quickly recognized how the story-telling ability of video – through television and online streaming – was needed and could benefit many others. His subject matter soon broadened to include other regional topics: local history, alternative agriculture, unique small businesses and outdoor life. "I've intentionally sought to tell stories that are overlooked. Like individual artists or mom-and-pop businesses that are too small to advertise but have an appealing story to tell or product to sell. The hidden gemstones of local history that have been neglected or almost forgotten. Farming or rural lifestyle stories that emphasize sustainability and green living. And," Henning adds, "the fun things to see or do if you spend time here."
Two television seasons later, Lakes Country Living has an archive of videos on file. Beyond the 13 stories originally funded by the Legacy grant, Henning has filmed over three dozen features on painters, poets, musicians, sculptors, and arts organizations. The show's cameras have taken viewers out into farm fields to meet organic farmers, onto frozen lakes to catch fish, behind a store's counter to watch artisan bread come out of the oven, and rolled down a rural trail with a cycling club.
This season promises viewers even more colorful experiences, such as visiting a ghost town, harvesting maple syrup, and kayaking through wilderness -- to name just a few. Woven into and between the video stories, Lakes Country Living also reveals Henning's love of the landscape. He takes viewers away from well-traveled highways to reveal common places of unusual beauty. Places that are available to all, yet often remain undiscovered, such as the wild river hidden by a bridge's railings, or a field of blooming wildflowers that disappear when viewed at 55 mph.
You won't see Lakes Country Living on public television stations. For now, the program is intended for cable audiences. For the first year, as the show was filmed and edited, it was only seen on one digital station through Henning's local telcom. By the middle of 2011 several more stations started airing the show. Today Lakes Country Living is viewed on stations serving most of North Dakota and a big part of west central Minnesota. Henning credits Dave Wolf, the manager of Gardonville Cooperative Telephone Association, with the business model based on distribution through other telcom stations and digital networks. Telephone companies offering television service with local content channels need affordably priced, quality material unique from what is seen in the mass market, and with broad audience appeal. Some telcoms in Wisconsin and South Dakota have also indicated interest in airing the show. "Although filmed in Minnesota, the subject matter has a broad appeal that goes beyond state lines" Henning reflects. Right now, he quickly adds, he'll be happy to see it on more stations across Minnesota.
Some of the story segments featured on the show may be seen through Lakes Country Living's website at http://www.LakesCountry.tv. More segments may be viewed on the show's YouTube channel, accessible from the homepage.