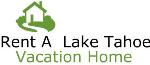 New Vacation Home Rental Reservation system for Lake Tahoe Nevada and California
Lake Tahoe, California (PRWEB) August 19, 2012
The website Rent a Lake Tahoe Vacation Home dot com located at P.O. Box 7172,195 Hwy 50, Suite 387, Stateline, California Phone 775-589-2180 or 800-699-7684. The office received a total makeover and they are located right at the base of all the ski mountains. When vacationers go to the site they will notice that they can make reservations by four different ways, email, phone, credit card and bidding.
Rent My Vacation Home dot com makes it easy for vacation homeowners to list their home for free not only on this site but on 83 others with one form. Vacation homeowners can then continue their listings for only $16 a month and cancel online at any time. There is no contract for homeowners and vacationers can save the listings for free. This is the largest network in the United States of America.
For vacationers the site offers everything you need to have a great time in Lake Tahoe, Nevada and California. It's not just another site with a list of homes but it has everything that Lake Tahoe has to offer.
Rent My Vacation Home dot com offers 83 websites throughout the United States of America and has been revamping all of them and their offices and really giving vacation homeowners and travelers the best of everything in each site. Next time vacationers or homeowners are on the Internet go to Rent My Vacation Home.com and do a search for the office closest to you.