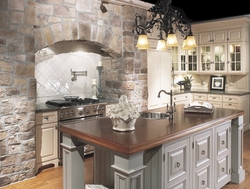 By opening up a second location in Smithtown, it allows Lakeville the opportunity to engage with a whole new generation of Long Island families, and invite them to come in, and meet mine
Smithtown, NY (PRWEB) July 1, 2010
The Grand opening of Lakeville Kitchen & Bath's second Showroom on April 14th, 2010, signaled the continuation of a 75 year tradition of offering homeowners, builders, and contractors an unparalleled showcase and variety of kitchen & bath design and cabinetry.
Over 300 guests, including architects, contractors, designers, industry personalities, friends, and family came out to celebrate the completion of yet another spectacular and exquisite Lakeville showroom, and the expansion of a family brand with a three-quarters of a century legacy.
The newest Lakeville showroom, located at 45 Southern Boulevard, Nesconset, New York, has been featured in such trusted and awarded industry publications as 'Builder & Remodeler' magazine, where the Smithtown showroom, and Lakeville president, Richard Sirlin, graced the front cover. As well as 'HOUSE' magazine, which featured a full-page spread covering the grand opening celebrations.
The new 5,000sq.ft. showroom, features more than 40 kitchen and bath displays, each unique in styles running the gamut of Traditional, Modern and Contemporary. Highlighted in the vast array of kitchen and bathroom settings are famed and award-winning domestic manufacturers such as Medallion Cabinetry, Crystal Cabinets, and Plain & Fancy cabinetry, in addition to Elkay Sinks & Faucets, Corian, Zodiak, Silestone, Granite, Laminate countertops, and Caesarstone Quartz Surfaces.
Similarly to Lakeville's Lindenhurst showroom, which is often compared to Manhattan's famed 'Decoration and Design Building', the new Smithtown location has its finger on the pulse of current design directions, serving up an extensive fusion of the latest trends and styles in kitchen & bathroom design and furnishings.
The new outstanding showroom displaying a plethora of stylish interiors, cabinetry design and innovative and decorative fixtures provides the ideal inspiration to explore, design and create. Offering walk-through displays and settings to suit every home and budget, the showcase also includes the latest in counter-top materials, colors and finishes, built-in appliances, decorative hardware and so much more.
Complementing the displays, and also available through the showroom, are a full range of appliances supplied by Smithtown Appliances, tile backsplashes supplied by Cancos Tile, and specialty lighting by Athena Light.
The second Lakeville showroom represents the rich legacy of a family owned and operated business dating back to 1935, as well as Lakeville's continual commitment and dedication to both their trade and homeowner customers, and the Long Island community.
"The opening of our Smithtown Showroom allows Lakeville another avenue to provide the same exceptional service, high caliber products and years of expertise to all our valued customers. It also affords us the opportunity to give back to a community that has trusted and supported Lakeville for over 3 generations" said Richard Sirlin, president of Lakeville Kitchen & Bath and grandson to the company's founders.
Lakeville's base of operations and original kitchen and bath showcase is located at 100 South Smith Street, Lindenhurst. "By opening up a second location in Smithtown, it allows Lakeville the opportunity to engage with a whole new generation of Long Island families, and invite them to come in, and meet mine. Our 2 showrooms complement one another perfectly, and as such, staff from Lindenhurst, who have spent years fulfilling the design dreams of our greater community, will be helping lead the way for Smithtown, and Suffolk County" said Sirlin.
Lakeville is proud to offer their valued customers more choice and freedom by opening their second showroom. Visit either of Lakeville's exceptional, convenient showcases located in Lindenhurst and Smithtown, and experience the dedication and warmth that has made Lakeville Kitchen & Bath a pillar of the Long Island community.
"We want to share our passion with our customers," said Sirlin. Come see for yourself why Lakeville is considered the premier supplier of kitchen and bath cabinetry in the industry.
Lakeville Kitchen & Bath also recently unveiled its newly redesigned website, which offers countless pages of remodeling tips, trick and case studies for any kitchen or bathroom project, as well as a useful resources section for homeowners and building trade professionals alike.
The website also boasts interactive slideshows where users can walk-through either of Lakeville's two Premier Kitchen & Bathroom showrooms. Additionally, Lakeville has included a blog to ensure that their valued customers have a medium to interact directly with their design experts and learn about the latest kitchen trends, products and Lakeville news.
Lakeville Kitchen & Bath Website
About Lakeville Kitchen & Bath:
In 1935, the Sirlin brothers, Morris, Jack and Louis, founded Lakeville Manufacturing Company. Over the course of 75 years, Lakeville has remained owned and operated by the Sirlin family. For three generations, the very core of Lakeville's business philosophy has remained unchanged… Complete dedication to their customers.
Lakeville Kitchen & Bath offers the Long Island community, both Building Trade Professionals and Homeowners, as well as the greater Tri-State areas of New York, New Jersey and Connecticut, the highest level of Kitchen & Bathroom Cabinetry Design and expertise. Lakeville offers a vast and detailed range of cabinetry from world-renowned domestic manufacturers such as Medallion Cabinetry, Plain & Fancy Cabinetry, Crystal Cabinets, HomeCrest and UltraCraft cabinets.
Additionally, Lakeville has an extensive selection of elegant hardware and accessories, as well as robust, durable and eco-friendly countertop solutions. All Lakeville employees are skillfully trained and exceptional in design in order to make your kitchen, bath or cabinetry design project a reality.
Lakeville has 2 Premier Kitchen & Bathroom Cabinetry and Design showrooms located on Long Island, New York, in the towns of Lindenhurst, and now with the opening of their second showroom in Smithtown, NY.
Lakeville Kitchen & Bath Website.
###