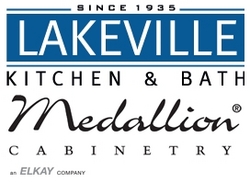 Lakeville and Medallion have always strived to bring the homeowner's personal vision to life, allowing them artistic individuality where it matters most... Their homes
(PRWEB) July 22, 2010
In 2010, Lakeville Kitchen & Bath collaborated extensively with Medallion Cabinetry; business partners for more than 25 years, to introduce an exciting and superb new line of cabinetry, crowd-sourced from the opinions, comments, and ideas of Lakeville's trusted and knowledgeable customers.
Inspired, directed, and realized by the requests and insights of Lakeville's management, expert staff, as well as their vast, local customers base, Medallion has designed an array of wonderful new products, in a wide variety of new colors, that enable Lakeville's customers, the very people who helped guide this innovation, to bring even their most distinctive and unique kitchen and bathroom concepts to life.
"Lakeville and Medallion have always strived to bring the homeowner's personal vision to life," stated Richard Sirlin, President of Lakeville Kitchen & Bath. "Through understanding the customers' needs and by joining forces to put those needs on the forefront of our design agendas, this new extensive product offering from Medallion enables Lakeville's customers the freedom to express their creativity through their cabinetry choices."
Three generations of the Sirlin family have guided Lakeville to its present day as a leading supplier of quality kitchen and bath cabinetry to homeowners and the building trades alike. Lakeville's strong partnership with Medallion Cabinetry, an Elkay Manufacturing Company, furthers our commitment and dedication to our customers.
Together, Lakeville and Medallion recognized that homeowners wanted pioneering cabinetry ideas to incorporate into their kitchen and baths, and to express their individuality. Medallion was able to develop a wide range of cabinetry and vanity advancements to meet Lakeville's customer needs, including stylish new designs in wood range hoods and vast additions in the area of cabinetry storage solution.
Additionally, thanks to the tireless input from Lakeville Kitchen & Bath, Medallion has happily added five new door styles within its Designer Gold, and Designer series, and six door styles in the Silverline series. Along with Medallion Cabinetry, we are pleased to announce that Medallion's new range of cabinets and vanities, including the Designer, Designer Gold, and Silverline series, will be available through both of Lakeville's New York showrooms, in Lindenhurst and Smithtown.
Both the Elkay and Lakeville families each have a truly great American story, spanning nearly a century, and offering generations of customers, the same fine products and service as they did the day their doors opened. Both innovative, family-owned businesses continually strive to be fashion forward, while preserving their long-standing tradition of offering their client's the highest caliber products, and exceptional service.
Since 1935, Lakeville Kitchen & Bath has been satisfying discerning customers. The Sirlin brothers, Morris, Jack and Louis, founded Lakeville Industries, originally located in New Hyde Park, New York, in the aftermath of The Great Depression. What followed was a family owned legacy of quality, trust, and dedication that continues today.
Similar to Lakeville's reputation as a pioneer in the industry, Elkay®, who acquired Medallion in 1993, also has a history of manufacturing innovative products and delivering excellent customer service. Elkay Manufacturing Company began as a vision of Leopold Katz, and his son Louis, in Chicago back in 1920. Elkay has grown and expanded significantly over the years from its beginnings as a sink manufacturer. With Medallion part of the Elkay Cabinetry Division, in 1996, they purchased MasterCraft Cabinets, and as a result, Elkay evolved into the one of the largest manufacturer of cabinets in the United States.
Today, Elkay strives to be the one source solution for a homeowner's kitchen and bath needs, while remaining true to the ideal that they will only manufacture the highest quality products and provide the best possible service.
For the past 3 decades, Lakeville Kitchen & Bath have been proud to offer the Long Island and New York communities the finest product lines and innovations Medallion Cabinetry has borne. The relationship our two families share have made Lakeville the #1 reseller of Medallion Cabinetry on the East Coast, consistently outperforming and exceeding expectations.
To see Medallion's new cabinetry on display and get inspired for any kitchen and bath renovation, visit either of Lakeville's New York showrooms, in Lindenhurst and Smithtown. For more information, or showroom locations and hours, visit Lakeville's web site at http://www.LakevilleIndustries.com, or check out the Lakeville Medallion Cabinetry page at http://www.LakevilleIndustries.com/Medallion-Cabinets
About Lakeville Kitchen & Bath:
In 1935, the Sirlin brothers, Morris, Jack and Louis, founded Lakeville Manufacturing Company. Over the course of 75 years, Lakeville has remained owned and operated by the Sirlin family. For three generations, the very core of Lakeville's business philosophy has remained unchanged… Complete dedication to their customers.
Lakeville Kitchen & Bath offers the Long Island community, both Building Trade Professionals and Homeowners, as well as the greater Tri-State areas of New York, New Jersey and Connecticut, the highest level of Kitchen & Bathroom Cabinetry Design and expertise. Lakeville offers a vast and detailed range of cabinetry from world-renowned domestic manufacturers such as Medallion Cabinetry, Plain & Fancy Cabinetry, Crystal Cabinets, HomeCrest and UltraCraft cabinets.
Additionally, Lakeville has an extensive selection of elegant hardware and accessories, as well as robust, durable and eco-friendly countertop solutions. All Lakeville employees are skillfully trained and exceptional in design in order to make your kitchen, bath or cabinetry design project a reality.
Lakeville has two Premier Kitchen & Bathroom Cabinetry and Design showrooms located on Long Island, New York, in the towns of Lindenhurst, and now with the opening of their second showroom in Smithtown, NY.
Lakeville Kitchen & Bath Website
About Medallion Cabinetry:
The Elkay Cabinetry Group is among the largest cabinet manufacturers in the U.S. with its Yorktowne Cabinetry, Medallion Cabinetry and Mastercraft Cabinets brands. For more information, please contact Medallion at 800-543-4074. For media inquiries, contact Maureen Brennan at (312) 946-6075.
http://www.Elkay.com
http://www.MedallionCabinetry.com
###