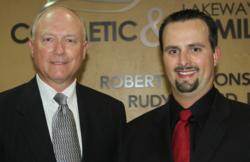 Lakeway, TX (PRWEB) September 05, 2012
For a limited time, Dr. Rudy Izzard with Austin Dental Implants is offering dental implants for only $1,295 per tooth. The procedure usually costs patients $1,825 per tooth.
Dr. Izzard, a Lakeway dental implant dentist who offices within the Lakeway Center for Cosmetic and Family Dentistry, offers a free consultation to patients interested in dental implants, including those interested in this 30 percent off special of Lakeway implants for teeth.
Austin Dental Implants reports that spaces are filling up quickly for this special, so those interested in filling in their smile with a durable and beautiful dental implant should contact the practice as soon as possible.
"I enjoy giving my patients confidence in their appearance," Dr. Izzard said. "I hope that this special will encourage people who have been needing dental implants for a while to come in and learn what the procedure entails and how implants can improve their smiles and their lives. It's a big special, but replacing missing teeth is important, and we want people who may not otherwise have this opportunity to be able to find their most beautiful smile."
Spaces for the special are extremely limited and are filling up quickly. Interested patients should contact Austin Dental Implants as soon as possible to claim the discount and schedule a free consultation with the doctor.
About Austin Dental Implants at the Lakeway Center for Cosmetic and Family Dentistry
The Lakeway Center for Cosmetic and Family Dentistry is an Austin cosmetic dentistry practice in Lakeway, Texas consisting of Dr. Robert D'Alfonso and Dr. Rudy Izzard, whose practice is named Austin Dental Implants. Dr. D'Alfonso practices cosmetic, restorative and general dentistry, while Dr. Izzard focuses mainly on implants and oral surgery. The practice features an in-house lab and IV sedation capabilities. The dentists at the Lakeway Center pride themselves on providing high-quality general, cosmetic and implant dentistry that gives patients the confident, healthy smile they deserve.
###