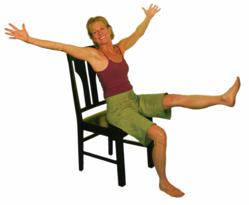 We love having Lakshmi at Discovery Yoga. She always has a great turn-out and the course is beautifully designed and masterfully taught.
Huntington Beach, CA (PRWEB) July 30, 2012
To meet the expanding need for chair yoga teachers, Lakshmi has supplemented her live teacher certifications with Lakshmi Voelker Chair Yoga Online Teacher Training (OTT) over Skype. This added offering focused senior fitness and disabled fitness is proving to be an excellent addition to her live programs. Many people interested in teaching chair yoga cannot attend live certifications because of time, location, or cost considerations. OTT has expanded Lakshmi's ability to certify chair yoga teachers who are being sought by so many in the modern world.
Through a series of video calls and self-study, students are able to attain the skills to teach yoga fitness benefits to those unable to get down on the mat, including senior, disabled, overweight, or inflexible people - even the masses that sit too much at work.
What is Lakshmi Voelker Chair Yoga?
Lakshmi Voelker Chair Yoga is based on 5000-year-old yoga postures (called asanas) and breathing techniques, plus other Eastern and Western movements Lakshmi has found beneficial. She has adapted these poses for the chair, making the health and fitness benefits accessible to everyone.
Lakshmi Voelker Chair Yoga offers three key ingredients: multiple levels of flexibility, contraindications and precautions, and emphasis on breathing techniques
In adapting yoga poses onto a chair, she has taken into account that everyone has different levels of flexibility (or ranges of motion). Therefore, Lakshmi Voelker Chair Yoga is presented in low, moderate and high levels of flexibility so teachers can adapt each pose to their student's personal needs. This includes students having varying degrees of flexibility between the upper and lower body and the right and left sides. This innovative approach makes Lakshmi Voelker Chair Yoga suitable for all ages and all fitness levels.
Teachers learn the contraindications and precautions for each of the poses presented in the manual. This guides them in how to use the levels of flexibility with each student making each student's experience safe and fun.
In addition to the postures and movements, Lakshmi Voelker Chair Yoga teachers provide a more complete form of exercise than most because breathing is emphasized. Breathing techniques are a key to reaching optimum health. Deep breathing techniques more fully oxygenate the body and massage internal organs. This improves energy and mental clarity while reducing pain and anxiety. Following the breathing techniques, not only during chair yoga classes, but throughout daily life, significantly enhances health and well-being especially for senior fitness.
What Teacher Trainees Learn
Along with meditation, breathing, and relaxation techniques, teachers learn how to adapt classical mat yoga asanas onto the chair—what Lakshmi terms Chairasanas.
Attendees learn the five branches of Lakshmi Voelker Chair Yoga: Single Chair Yoga™, Double Chair Yoga™, Pair Chair Yoga™, Weighted Chair Yoga™, and Wheelchair Yoga™.
Attendees learn the Chairasanas contained for the Sun Salutation, the Moon Salutation, the Earth Salutation, the Warrior Sequence, the Balance Sequence, and many more yoga asanas and yoga-related postures
Attendees learn additional Eastern disciplines and modalities such as the acupressure relief hand movements, the acupressure knee strengthening exercises, the breathing techniques for meditation, relaxation, and asanas, the 7 Chakras and their meanings, colors, sounds, and affirmations, the 5 Yamas and 5 Niyamas, the Do-In Chinese Self Massage, Foot Reflexology, and the Pa Tuan Chin (the 8 Essential Sitting Exercises).
Attendees learn the contraindications/precautions for each chairasana in the manual and basic anatomy as it applies to chair yoga. They also receive introductions to outside study materials
Lakshmi Voelker Chair Yoga Certification Objectives
The online teacher training readies graduates to teach a one hour Lakshmi Voelker Chair Yoga class with knowledge and confidence to varied audiences. A certificate is granted upon successfully teaching a 30 minute Teacher Assessment Class to your instructor.
Lakshmi Voelker, E-RYT 500, YA, IAYT, has over 40 years in the fitness industry specializing in senior fitness and adaptive fitness. She created Lakshmi Voelker Chair Yoga in 1982. Creator of the DVD Get Fit Where You Sit and the CD Lakshmi Voelker Chair Yoga, she has certified more than 750 teachers nationally and internationally, including health-care professionals at the Mayo Clinic and the New York City Department of Education. She does live certifications all around the United States. She also offers Online Teacher Training over Skype. For more information on all her certification programs, click here.
http://www.getfitwhereyousit.com