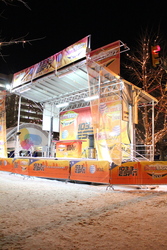 This is the first step in increasing efficiency at national broadcasts.
Fort Worth, Texas (PRWEB) February 6, 2011
LALED's dealer, A and O Sound of Houston, Texas (aosound.com), was challenged with producing over 22,000 lumens of HD video quality light output on a stage with a 15 amp restriction. Steve Milner of A&O Sound chose LALED lights for the project. He chose eight Challenger series T-8 Lamps for interior illumination and four Solaris Series floods for exterior illumination, bringing the total illumination to 24,000 lumens and only 2.5 amps and 300 watts. This allowed ESPN, Coors Light and AT&T to still have plenty of power for their broadcast video and radio equipment. The overall reaction of the booth has been positive and has drawn multitudes of people sneaking photo ops with this ESPN booth as the backdrop. "This is the first step in increasing efficiency at national broadcasts. Traditional broadcast lighting consumes several thousand watts. We have built specialty lights like our Titan series for these super bright applications with strict color specs," says Robert Owens, CEO of LALED.
LALED was started by Robert Owens over six years ago while he was still CEO of a large home automation company in Louisiana. He since sold the automation company to focus on LED lighting. LALED has 40 percent of its manufacturing in Houston and will continue to increase production up to 80 percent in the United States over the next two years. Robert and the team at LALED are committed to the highest quality standards in physical appearance, quality of light, light output and power.
Contact:
Daniel Henderson, Robert Owens, Jonathan Gafford
info(at)laledus(dot)com
Lafayette, LA
888-347-9295 (option 1)
http://www.laledus.com
# # #