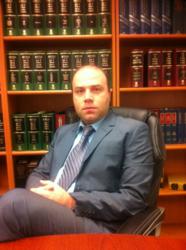 When homeowners need loan modifications, we take into account the stress they are under and help to bring them clear answers so that they aren't left in the dark
Los Angeles, CA (PRWEB) March 30, 2012
LA Legal, Inc. is reaching out to homeowners overwhelmed with their existing home loans and on the brink of foreclosure by offering its expertise in loan modifications. The locally-based loan modification firm is also planning several upcoming seminars, with the first expected to be held in the Los Angeles area.
Some homeowners are still reeling from economic hardships that have made it difficult to maintain their current home loans at the rates they were paying since they originally entered into agreement with lenders. LA Legal's in-house attorneys and senior staff communicate directly with major lenders and submit documents on behalf of homeowners. The firm is a recognized third-party advocate for lenders such as Bank of America, Chase and Wells Fargo. LA Legal has a track record of negotiating with lenders to reduce interest rates and/or the principal reduction of loans.
Though LA Legal is based in Century City, Los Angeles, the firm provides services to homeowners in many states, not just California. It also provides free consultation to homeowners, never charging up-front fees. LA Legal's staff is also fluent in English, Spanish and Farsi.
"Our goal is to help homeowners avoid foreclosure. Homeownership is the American dream, it's something the average person works many years to attain," said Farshad Sinai, J.D., CEO and Founder of LA Legal. "When homeowners need loan modifications, we take into account the stress they are under and help to bring them clear answers so that they aren't left in the dark," he added. "We provide viable working solutions for investors, lenders and borrowers in negotiating notes to achieve a win-win goal."
LA Legal will be making its knowledgeable and experienced in-house attorneys and senior staff widely available with its upcoming seminars. The firm will soon announce the dates and locations of the seminars for homeowners that would like to attend and discuss their options with LA Legal's professional staff. The seminars will be free of charge to homeowners affected by the economy.
For more information regarding Loan Modifications, REO Management, and Short Sales visit LA Legal, Inc. at http://LALEGAL.CA.
For media inquiries or additional information, please contact:
Yvette Morales
YM & Associates
PR | Marketing | Branding
California | New York
949.244.9769 | 310.499.0906 Fax
YMoralesY(at)YM-PR(dot)com
YM-PR.com