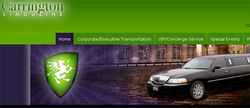 We take care of our clients. Whether that means providing door-to-door service to corporate VIPs headed to LAX, or giving clients at alcohol and drug treatment centers in Los Angeles a safe way to go from here to there, it's a priority
Los Angeles, CA (PRWEB) September 3, 2008
In the spirit of AA, Carrington Limo is providing discreet, private, luxury transport to treatment center clients. Serving VIPs and corporate clientele, this boutique LA limousine service now provides sober car and limousine transport to a high-end Malibu treatment facility.
The Carrington Limo fleet includes a newly customized Luxury Limo Coach, complete with an extended roof, six facing captain's chairs and a low, executive profile. Now alcohol and drug treatment centers in Los Angeles and the surrounding area, television and movie production companies, and medical facilities can count on a safe and sober means of luxury transportation.
"We're interested in supporting production companies and drug treatment centers in Los Angeles and outlying areas with our sober limo service. It's a need we've identified and something unique to Carrington Limo. We're glad to be able to help clients at the Malibu treatment facility come and go in safety and comfort, and we can provide the same to the entertainment industry or other treatment facilities in the LA area using our Luxury Limo Van and other alcohol-free vehicles," explains owner Morgan Morgan.
With the new Luxury Limo Coach and other cars in the Carrington Limousine fleet, drivers can also transport facility clients who want to visit the Promenade or other shopping outings during their stay at a treatment facility. The fleet also includes a new stretch five-door limousine designed for easy entrance and exit and with a hidden fifth door, a Mercedes Luxury Sedan, and SUVs that accommodate six or seven passengers.
"We take care of our clients. Whether that means providing door-to-door service to corporate VIPs headed to LAX, or giving clients at alcohol and drug treatment centers in Los Angeles a safe way to go from here to there, it's a priority," explains Morgan.
"Absolute discretion and privacy are integral to our service too," Morgan continues. "Every driver and employee of Carrington Limousine has executed confidentiality and non-disclosure agreements."
The company also provides transportation to medical procedures, private flight transitions and more. Service extends to helping customers plan an evening or day out, free of charge, arranging for dinner reservations or concert tickets.
Carrington Limousine, a recognized member of the National Limousine Association, provides a complete display of services at carringtonlimo.com. Website visitors can view the newest additions to this Los Angeles limo fleet, make reservations or a jet charter request, and ask questions or make comments on the contact form.
About Carrington Limousine
Carrington Limousine is a Los Angeles limo company offering corporate and executive transportation as well as VIP and concierge service. The fleet of luxury vehicles, including a five-door stretch limo, sedans, SUVs and limousine coaches, is managed by a crew of reliable drivers and available for every day and special events, including weddings, concerts, and sporting events in many areas including Santa Monica, West Hollywood, Encino, San Fernando Valley, and Bel Air.
###