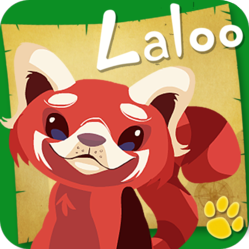 Co-founder Lauren Freeman claims, Silicon Valley might think we're crazy hippies... giving away 50% of our income. But... we feel that there's no goal more worthy than one that helps preserve our world's natural state for generations to come.
San Francisco, CA (PRWEB) September 14, 2012
Bay Area children's book app developer Laloo LLC pursues an altruistic goal: to develop entertaining book applications that teach children about endangered species, and to donate proceeds from each app installed to a non-profit devoted to wildlife conservation.
Their first app,Laloo the Red Panda, launched this week on iPad, and features the story of a red panda on a journey of self-discovery in India. Laloo LLC has aligned with Bay Area non-profit Red Panda Network, which is devoted to the conservation of the red panda and its habitat in the Himalayas. Twenty percent of each app install is donated to Red Panda Network.
Co-founder of Laloo LLC, Lauren Freeman claims, "I've always wanted to produce children's entertainment with an altruistic end goal. Years ago, I had my sights set on feature animation, but with the advent of the iPad we were able to produce content faster and without initial external funding. We hope that micro-donations via purchases of this book app prove to be a viable way to contribute to wildlife conservation NPOs, such as Red Panda Network. In an IPO motivated climate like Silicon Valley, people might think we're crazy San Francisco hippies with this business model! After all, we're giving away 50% of our income from the beginning (Apple's take of 30%, plus the 20% donation). But the reality is, we feel that there's no creative goal more worthy of our effort, especially when it comes to children's entertainment, than one that helps preserve our world's natural state for generations to come."
Red Panda Network CEO Dirk Kloss embraces the new media partners: "Mobile apps and online fundraising are enabling us to reach wider audiences with our conservation message who probably had never thought about – or didn't know how – to help the endangered species and dwindling Himalayan forests that are so crucial for the livelihood of millions in resource-poor uplands and water-dependent lowlands. Laloo introduces them in a playful way to the issues and solutions, and to convenient donation options that puts them directly in touch with trusted organizations like us, so we can concentrate on what we do best: make an effective difference on the ground for the survival of people and wildlife."
About Laloo LLC:
Laloo LLC is a Bay Area based children book app developer that donates proceeds from their apps to NPOs. Their first app, Laloo the Red Panda, is available now in the app store. They are celebrating the launch of their first book app in conjunction with International Red Panda Day, in Pune, India. Laloo the Red Panda costs $3.99 USD.
About Red Panda Network:
Red Panda Network is a Bay Area non-profit organization devoted to the conservation of the endangered red panda and its habitat in the Himalayas. To stop the rapid deforestation and degradation RPN uses its hallmark community-based monitoring and conservation approach that educates and empowers mountain villagers toward more sustainable land use, energy practices, and coexistence in the forests which both animals and people depend on for their livelihoods. http://www.redpandanetwork.org