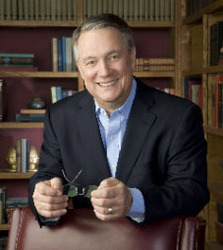 Packed with insightful wisdom and solid methodologies, There's More to Life Than the Corner Office will help you plot your own path to spiritual, physical, mental, and career success.
Fort Worth, TX (PRWEB) June 16, 2010
"There's More to Life Than the Corner Office" (McGraw-Hill Publishing ISBN-9789861576275) has released the book by authors, Lamar C. Smith and Tammy Kling, in Taiwanese. In support of the release, Smith has accepted an invitation to be a guest lecturer in China through a business outreach program. While final details are still being confirmed, Smith will speak to hundreds of students at universities in Nanjing and Beijing during a ten day trip, November 4-14, 2010.
Smith's invitation came from Triple Bottom Line Leadership Partners, an organization that teams up students from around the world with professionals that have backgrounds in entrepreneurship, business leadership, education, the arts, medicine, science and the law. These professionals use their expertise to help prepare emerging leaders with practical leadership lessons. Smith plans to deliver messages on professional strength through balanced living and his 4-step personal development plan.
About the book: A motivational book that transcends age, culture, and occupation, "There's More to Life Than the Corner Office" conveys encouraging lessons about how to improve balance in your life. By using a compelling story about two individuals at very different stages in their lives, the book demonstrates how to shoot for your goals without giving up other parts of your life and illustrates a plan for balanced living in the five key areas of the human experience: Physical, Intellectual, Emotional, Financial, and Spiritual. Readers describe the book as easy-to-read, touching and encouraging.
The Taiwanese version as well as the English version is now available for purchase on Improving Your Balance.com.
About the Author:
A highly decorated Air Force Special Forces pilot, flying 114 combat and rescue missions, author and speaker, Lamar C. Smith earned two Silver Stars, six Distinguished Flying Crosses, and eleven Air Medals. He went on to rise to President and CEO of the retail investment firm, First Command Financial Services, Inc., where he grew the firm to serve more than 300,000 families and oversaw $18 billion in invested assests and $52 billion in life insurance. Based on his own experiences, Smith teaches how to align life and purpose, balance and how you gain it, and time-use techniques in addition to teaching his core offering of achieving balance using his 4-step personal development plan.
Smith conducts personal development seminars and appears as a keynote speaker for a wide variety of organizations, including universities, businesses, spiritual organizations and the military. He also provides strategic planning, training and consultation to senior executives and has appeared on NBC, CBS, FOX, CNN International and a host of other television and radio stations.
For more information or to schedule a seminar go to http://www.improvingyourbalance.com/contact/ or call 1-817-732-4872.
###