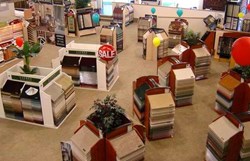 It is considered a flooring-industry leader for durability, beauty, and its resistance to usual wear and tear caused by foot traffic…New Zealand wool is a good choice for resisting this kind of wears because of its natural crimped-yarn construction
San Jose, CA (PRWEB) February 22, 2014
Conkin Bros., a company that has developed a well-deserved reputation for offering top quality hardwood flooring San Jose residents can depend on, has just launched a new shop at home service that is already incredibly popular with customers.
While many people are interested in getting laminate flooring, carpet, tile, or another type of new flooring for their home, not everyone has time in their busy schedules to come into Conklin Bros floor coverings to shop in person.
Because the owners of the company truly understand this dilemma, they decided to launch the new shop at home feature, which involves a friendly and knowledgeable member of the team at Conklin Bros. bringing samples of various types of flooring directly to a customer's home.
"Although we'd love for you to come to the showroom, we're happy to bring the showroom to you," noted an article on the Conklin Bros. website, adding that the service is completely free and without obligation.
"Simply schedule an appointment and we'll bring you all the samples you'd like to see, right to your home. We can measure your rooms at the same time and even provide you with a quote, right on the spot."
As part of the new service, customers can specify which types of flooring they would like to see, including which colors and/or styles. In addition to making it exceptionally easy to check out various flooring samples, seeing them in the home—with the specific lighting, furniture and wall colors and other variables—can help ensure that the customer will be able to select the best type of flooring.
Offering the new shop at home service is just one of the many ways that Conklin Bros. shows its dedication and devotion to their customers. Another way is through the company's educational blog, which helps to teach people about many flooring related topics and issues. For example, a newly-posted blog offers helpful tips and advice on how people with hardwood floors can add warmth and color to their room by adding a carpet runner.
"The first step is to choose a carpet style, thickness, and pattern," the blog explained, adding carpeting made from New Zealand wool is an outstanding choice for hardwood floors.
"It is considered a flooring-industry leader for durability, beauty, and its resistance to usual wear and tear caused by foot traffic…New Zealand wool is a good choice for resisting this kind of wears because of its natural crimped-yarn construction."
About Conklin Bros.:
Conklin Bros. is proud to offer a tremendous selection of carpet and flooring from all the top manufacturers for every living space, including high-end designer styles to quality, value-priced products for every budget. After 134 years of being in business, Conklin Bros. continues to be locally owned and managed. The commitment to quality, superior craftsmanship, attention to detail, is what separates Conklin Bros. from the rest. For more information, please visit http://www.conklinbros..com/
Conklin Bros.
2250 Almaden Expressway
San Jose, CA 95125
408-266-2250