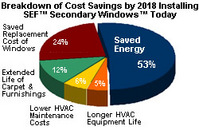 The real problem with your current inefficient windows is not that each one costs you hundreds of dollars per window in lost energy right now. The real punch to your wallet is going to come in future years as utility rates keep going up and up and up, and your maintenance and equipment replacement costs eat up your yearly budget
Boston, MA (PRWEB) February 18, 2009
Made of low emissive (Low-E) impregnated laminated glass, SEF™ Low-E Secondary Windows™ offer building owners across the nation a way to significantly lower their energy and maintenance costs without having to replace their inefficient yet existing windows. Billions of dollars in energy is wasted due to window thermal losses, no matter in what season or if the windows are single-, dual-, or triple-paned.
By installing SEF™ Low-E Secondary Windows™ on the inside window sill in front of the existing windows, an additional insulating air cavity is created, dramatically reducing window thermal exchange. The Low-E feature of SEF™ Windows reflects heat back to its source, which means that the windows will stay cooler in the summer and warmer in the winter, so less energy is needed to achieve climate control.
"The real problem with your current inefficient windows is not that each one costs you hundreds of dollars per window in lost energy right now. The real punch to your wallet is going to come in future years as utility rates keep going up and up and up, and your maintenance and equipment replacement costs eat up your yearly budget," says Richard Mann, General Manager of Save Energy Forever™.
Depending on the type of windows that are currently installed (single- or dual-pane), the type of heating and the amount of windows in the building, after installing SEF™ Windows energy savings of up to 29 Million Dollars can be achieved over the course of their first 50 years of life.
Besides slashing A/C and heating costs and reducing HVAC tonnage, SEF™ Windows deliver additional benefits that are good news to building owners. Their hardened and toughened laminated glass makes them 100 percent shatterproof, ideal for buildings in vulnerable locations or during severe weather, such as hurricanes, tornadoes and earthquakes. They also filter out 99.9 percent of the entire UV-ray spectrum, so no longer will furniture, carpets and artworks suffer from damage due to sunlight.
SEF™ Windows also eliminate all drafts and air infiltration, filter out external contaminants, including allergens, pollen, dust and dirt, and reduce disturbing outside noises by up to 95 percent, creating a quiet room atmosphere.
For additional information on SEF™ Low-E Secondary Windows™ and how to energyproof a building, such as a hotel, hospital, museum, school, etc., contact Richard Mann or visit http://www.saveenergyforever.com.
About Save Energy Forever™ - Headquartered in Massachusetts and working with our manufacturing facilities in Nevada, we have helped property owners exceed their thermal, noise and allergen reduction expectations since 1998. We have delivered over 161,000 energy-saving windows worldwide to hotels, hospitals, schools, museums, clean rooms, retailers and homeowners. We recently launched Save Energy Forever™ Low-E Secondary Windows™ as our new stand-alone product line. This LEED-qualified window system is our contribution to a greener planet.
###