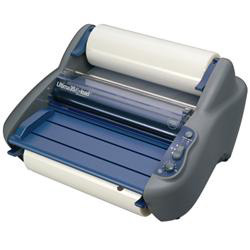 Mc Elhattan, PA (Vocus) March 6, 2010
Brodart Supplies & Furnishings just added two brand new laminators to their collection.
Brodart's new LEDCO 27 Compass Laminator is the latest in lamination technology. Its heated silicon rollers provide clear, uniform lamination using films up to 10 mm. thick, and allow for mounting and laminating materials up to 1/8" thick. This laminator also comes with a two year warranty, ensuring customers a worry-free purchase.
Brodart's new Scotch Thermal Laminator is compact, lightweight, and easy to use. It offers photo-quality laminating for paper items up to 9" wide and pouches up to 5 mm. thick.
Brodart also offers eight additional laminators to meet different customer needs, such as the electricity-free Scotch Heat Free Laminator, the GBC Pinnacle 27 EZLoad Roll Laminator that is ideal for banners and continuous feed applications, and the easy-to-use low-maintenance LEDCO Educator School Laminator, and more.
To take a look at Brodart's collection of Laminators, as well as their laminator film rolls and laminator cleaning kits.
ABOUT BRODART CO.
Since 1939, Schools and Libraries alike have turned to Brodart Supplies & Furnishings for everything to keep their libraries running smoothly. From book covers and book supports to kids wall murals, Brodart Supplies & Furnishings is a one stop shop for all your library supplies. From humble beginnings, Brodart has grown to become an international company, serving libraries from the Northwest Territories to the Pacific Rim, with facilities in the United States and Canada. Brodart truly has evolved into a full-service library supply company. For additional information about Brodart Supplies & Furnishings, please visit shopbrodart.com or brodart.ca for our Canadian users, or call 1.888.820.4377 in the United States or 1.800.265.8470 from Canada.
###