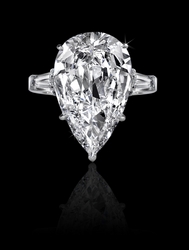 I learned so much working with my father in this incredible industry
Beverly Hills, CA (PRWEB) April 27, 2009
LAMONT Jewelry, Beverly Hills, announced today that it has launched a new International diamond jewelry brand based around the direction and concepts of prominent jewelry designer Monty Abramov. LAMONT produces heirloom and unique diamond jewelry designs, and bridal jewelry around select, rare and exclusive polished diamonds under Abramov's direction.
Monty Abramov is the son of late diamond industry veteran Raphael Abramov. "I learned so much working with my father in this incredible industry," said Monty Abramov. "Over time we have developed close relationships with some of the world's finest jewelers and industry professionals. LAMONT will continue to expand those relationships through the passion of my work," he added.
The first magnificent jewel launched in the LAMONT collection is a classic 10 carat pear shape and baguette diamond ring set in platinum. "Bold, elegant and eternal - a true treasure," said Monty Abramov. The new LAMONT creations focus on timeless, classic and collectable fine jewels crafted in platinum and 18 karat gold. The collection highlights round, fancy shapes and natural colored diamonds ranging from one carat to over twenty carats. Future collections by LAMONT will offer limited jeweled timepieces, estate and deco designer items, and collectable jewels studded with pearls and precious colored gemstones.
"Our industry has experienced some very difficult challenges in this economy, but demand for bridal jewelry in both engagement, anniversary and diamond upgrades remains steady and even strong in some markets," said Monty Abramov.
The first collection of '36 Fabulous Diamonds' will be photographed and documented in an exquisite Jewelry Book LAMONT will publish in 2010.
Lyle M. Rose, President of Jewelry Brands, the Beverly Hills based consulting firm representing Monty and LAMONT Jewelry said, "Surprisingly, rare diamonds and precious metals have fared well against other investments that failed. Diamond mining and wholesale trading has dwindled but I believe that diamond values and jewelry demand will eventually increase as the world supply becomes scarcer and the economy develops positive momentum."
"Millions have seen Monty Abramov's designs in People, Town & Country, Vanity Fair, Harpers Bazaar and Christies. Monty has a talent for creating fine jewels in any price category," continued Mr. Rose. "Consumers have enjoyed and continue to wear his designs under the Techline, Mirabelle 18k, and other well known brands. While the LAMONT brand will focus primarily on the premium market, Monty will create diamond jewelry that is both innovative and attainable," he added.
LAMONT will preview the collection by appointment only to collectors and to prominent, select independent retailers in the United States. LAMONT will launch globally at the Hong Kong Jewellery and Watch Show in the new Premier Pavilion, September 23-27, 2009.
For sales and product information please visit LAMONT website at LamontJewelry.com.
ABOUT MONTY ABRAMOV:
Monty was born in Toronto, Canada and moved to Beverly Hills, California, in 1984. He began his career in the fine jewelry industry in 1992 working with his late father Raphael Abramov and his brother Jack as the principals of RJM Importers, Techline Jewelry Corporation, and Mirabelle Luxury Concepts, all Los Angeles based Jewelry Companies. Techline Jewelry Corp. became an industry leader in utilizing the advancement of CAD technology in jewelry design. In 2000, Techline introduced the consumer brand Mirabelle 18k, designed by Monty, and launched with 'The Original Diamond Handbag Collection' of detailed and handcrafted miniature purse pendants, boldly designed with diamonds, precious gems and French enamel. The forward fashion Mirabelle collected works was a huge success with consumers worldwide. Monty's boutique collections grew to include the fine jewelry gaming line 'Players Club' and the artistically floral 'Flower Power' collections. Mirabelle 18k was featured at retailers Saks Fifth Avenue, Nordstrom and Bailey Banks and Biddle, and selectively sold through some of the finest independent jewelers in the United States and worldwide including Gearys Beverly Hills, Tiny Jewel Box in Washington, DC, and King Fook Jewellery Hong Kong.
Mirabelle 18k jewels have been featured in global consumer media and publications including BBC, CNN, FOX and ABC news, The Wall Street Journal, InStyle, Harpers Bazaar, Vanity Fair, Glamour, Elle, W Magazine, Allure, Brides, Town & Country, Vogue, People, Playboy, US Weekly, GQ, JCK Magazine, Luxury by JCK, Rapaport, National Jeweler, Modern Jeweler, W Jewelry, Jewellery News Asia, On Board Media, Player's Club Magazine, Caesars, Venetian, Cigar Aficionado, Beverly Hills 213, Los Angeles Magazine, LA Confidential, Ocean Drive, Hamptons and Gotham. Monty Abramov led design for other Mirabelle 18k jewelry projects including jewelry for Celine Dion and Elton John exclusively for Caesars Palace. Celebrities wearing Mirabelle 18k includes Julia Roberts, Natasha Henstridge and Barbara Streisand. In 2005, Mirabelle Luxury Concepts and Techline Jewelry merged with entities owned by Kathy Ireland and Elizabeth Taylor to form House of Taylor Jewelry, where Monty served as Design Director and Executive Vice President of the company. Monty is an avid sports fan.
Website: LamontJewelry.com Facebook Page: LAMONT Jewelry
ABOUT JEWELRY BRANDS:
Jewelry Brands is a Beverly Hills, California based consulting firm specializing in Marketing, Licensing and E-Commerce solutions for emerging and established jewelry brands, diamond brands, designers, manufacturers and distributors.
Website: JewelryBrands.net .
Contact Mr. Lyle Rose, President, directly at 973-906-3618.
PHOTO:
10 CARAT classic LAMONT Pear Shape and Baguette Diamond ring set in platinum.
Price available upon request and jewelry is subject to prior sale.
(Photo by Diamond Graphics Los Angeles)
For more information please contact:
Jewelry Brands
Beverly Hills, California
Avi Abrams, 310-922-2095
MARKETING AND PUBLIC RELATIONS
JewelryBrands.net
# # #