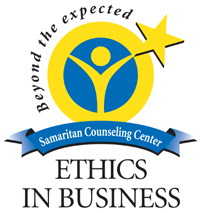 Lancaster, PA (PRWEB) July 10, 2012
The Samaritan Counseling Center and Lancaster Chamber of Commerce & Industry recently announced the nominees of the 2012 Ethics in Business Award. JFC Staffing Companies was honored to be included as one of 30 nominees and thrilled to be selected as one of the 10 finalists for the prestigious award.
Each of the final nominees had to complete applications, employee surveys and provide comprehensive documentation of their mission statements, core values, policies and procedures. The companies were selected because they exceeded expectations in the areas of integrity, fairness and justice, stewardship, life-enhancing and transparency, and stand apart in their dedication to corporate social responsibility in their employment practices, civic activities, environmental concern and ethical conduct. Each nominee participated in an extensive site visit that included interviews with employees, managers, clients, customers and vendors.
The Ethics in Business Award is bestowed upon one local company and was presented in late June at the Ethics in Business Forum hosted by The Chamber and Samaritan Counseling Center.
About The JFC Staffing Companies:
Founded in 1975, The JFC Staffing Companies, with offices throughout Central Pennsylvania, are comprised of full-service, temporary staffing and professional search firms that help individuals by catering to both workers seeking employment and employers seeking workers. JFC is well known for their specialized recruiting, customer relationships and responsiveness. JFC's experienced recruiters offer their expertise to match qualified job seekers with employers through innovative, cutting-edge service and value-added programs that led area business journals to name The JFC Staffing Companies the #1 independent staffing firm in the Central PA region.
JFC Temps offers a huge variety of office support jobs, including secretaries, receptionists, telemarketers, data entry operators, customer service representatives and administrative assistants. In the light industrial and skilled labor fields, JFC offers inventory control, production, assemblers, quality assurance, bindery, electricians, maintenance technicians, HVAC techs and more on a temporary, temp to hire and permanent basis.
JFC Global focuses on information technology, accounting, finance and engineering and staffs positions on both a contract and permanent basis. JFC Global has received the WBE certification through the Department of General Services of PA.
JFC Medical fills many jobs in Central PA throughout the healthcare field including executive healthcare as well as physicians, RNs, LPNs, and medical support positions like medical assistants, medical billers, medical receptionists, and medical secretaries.
The JFC Staffing Companies have six convenient locations in Central Pennsylvania.
Camp Hill Office - 717-761-8095
Carlisle Office - 717-243-4475
Chambersburg Office - 717-709-9675
Harrisburg Office - 717-657-4923
Lancaster Office - 717-399-6474
York Office - 717-755-3100