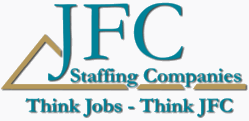 It's great to help prepare students for the real world by providing insight and sharing career experiences that can be applicable in any field.
Lancaster, Pa (PRWEB) April 26, 2012
The JFC Staffing Companies know the importance of serving the communities in which they operate. JFC Global Lancaster IT recruiter, Sabrina Strong, actively participates in the Lancaster Chamber's Young Women's Mentoring program. Part of this process requires the student to spend a day shadowing at their mentor's workplace.
Recently, JFC Global had the pleasure of hosting a high school student, Jayden, for a day. Part of her observation included observing candidate interviews, client relations/account management, HR duties, etc. Sabrina says of the experience, "It's great to help prepare students for the 'real world' by providing insight and sharing career experiences that can be applicable in any field.' As Jayden would like to ultimately wind up with a nursing job in Lancaster, Sabrina was able to connect her student with a local hospital for her second experience. Jayden felt that the experience broadened her views of the business world and understanding what goes into hiring employees vs. being in the nursing field: "Having two experiences was good because I learned two different sides of business: one being geared towards an office setting at JFC Global, and the other being on your feet all day at LGH. I think that it was important to have two different job shadowing experiences so that I could really compare the two."
At JFC, we want to be a company known for being great to work for and to work with. A company whose people feel significant and happy about what they do and customers describe us as a delight to do business with.
About The JFC Staffing Companies:
Founded in 1975, The JFC Staffing Companies, with offices throughout Central Pennsylvania, are comprised of full-service, temporary staffing and professional search firms that help individuals by catering to both workers seeking employment and employers seeking workers. JFC is well known for their specialized recruiting, customer relationships and responsiveness. JFC's experienced recruiters offer their expertise to match qualified job seekers with employers through innovative, cutting-edge service and value-added programs that led area business journals to name The JFC Staffing Companies the #1 independent staffing firm in the Central PA region.
JFC Temps offers a huge variety of office support jobs, including secretaries, receptionists, telemarketers, data entry operators, customer service representatives and administrative assistants. In the light industrial and skilled labor fields, JFC offers inventory control, production, assemblers, quality assurance, bindery, electricians, maintenance technicians, HVAC techs and more on a temporary, temp to hire and permanent basis.
JFC Global focuses on information technology, accounting, finance and engineering and staffs positions on both a contract and permanent basis. JFC Global has received the WBE certification through the Department of General Services of PA.
JFC Medical fills many jobs in Central PA throughout the healthcare field including executive healthcare as well as physicians, RNs, LPNs, and medical support positions like medical assistants, medical billers, medical receptionists, and medical secretaries.
The JFC Staffing Companies have six convenient locations in Central Pennsylvania.
Camp Hill Office - 717-761-8095
Carlisle Office - 717-243-4475
Chambersburg Office - 717-709-9675
Harrisburg Office - 717-657-4923
Lancaster Office - 717-399-6474
York Office - 717-755-3100