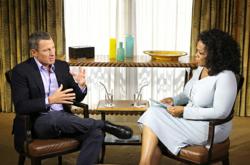 Armstrong appeared on the Oparah Winfrey show and said that his achievements would not have been feasible without cheating.
(PRWEB UK) 21 January 2013
Lance Armstrong, once a hero for overcoming testicular cancer and going on to win the Tour de France, has fallen from grace after confessing to using performance-enhancing drugs. For years Armstrong denied doping as he won a string of Tour de France titles however this week he finally admitted using drugs to help him achieve his victories. Armstrong appeared on the Oparah Winfrey show and said that his achievements would not have been feasible without cheating.
It has been hinted that, due to its dirty reputation, cycling may now be ditched from the Olympics (According to the Daily Mail) but Gymkit UK hope that cycling will continue to be a popular sport due to its health benefits. Cycling is such a good form of exercise because it is low impact so it doesn't impact joints as much as other forms of aerobic exercise but does aid weight loss, reduces stress and improves fitness. Furthermore, it's a form of exercise that is accessible to a variety of people from youngsters to pensioners and people with disabilities should they have the right apparatus available to them. Cycling is also a method of transport so it doesn't necessarily mean a trip to the gym in order to participate regularly. Nicole Saunders, Brand Manager at Gymkit UK said "I'm really fortunate that I am able to cycle to work. It means that if I can't make it to the gym I know I'm doing physical activity on 5 out of 7 days each week."
Gymkit UK are one of Europe's leading suppliers of commercial fitness equipment. This includes exercise bikes that are often bought from gyms and health clubs that no longer require them or are renovating. They are then sold on to other businesses and individuals as it becomes increasingly popular to possess gym equipment at home. Gymkit UK also sell other fitness equipment such as treadmills, rowing machines, cross trainers, V-Plates, Teeter inversion products and are currently expanding in to the area of Peak Pilates. All fitness equipment that is sold is checked to ensure it is fully working, given a commercial clean and can be sprayed or painted to fit in with ones individual requirements. Furthermore, a 3 month warranty is provided and fully trained service engineers are on hand for adjustments and repairs.
If you are a business or individual looking to buy or sell gym equipment then please feel free to visit our website and see our massive range of commercial gym equipment for sale, please visit our website (http://www.gymkituk.com) or call us on 0845 869 9298.