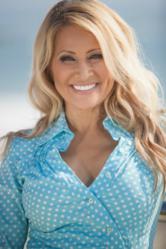 I wanted the best, so I traveled to Seattle to see Dr Timmerman
Seattle, WA (PRWEB) September 18, 2012
Famous OC dress designer Marisa Kenson has been dressing beautiful runway models and celebrities for years, but had not focused on herself. When it was finally HER turn, she knew that not just ANY dentist was enough, she wanted someone she could trust to make her smile perfect. It was for this reason that she traveled to Seattle from Orange County to see internationally renowned cosmetic dentist Lance Timmerman DMD. Dr Timmerman has patients from all over the world travel to his Seattle office for their smile needs, as his methods allow a complete makeover in just two visits. For his patients that travel great distances, especially his European patients, he can complete the treatment in a single visit with a few days hotel stay for lab processing.
Ms Kenson initially met Dr Timmerman from working with the Women In Need Foundation. Her efforts to help the W.I.N. Foundation led to being introduced to Dr Timmerman, and it was Dr Timmerman's charitable efforts and his cosmetic talents that won her over.
The W.I.N. Foundation started in 1996 through the inspiration of Dr. Tracy Kemble Ph.D, when after living through the pains and secrets of abuse she realized a gap in the recovery process. Using her own journey of healing, she developed an astounding program of recovery called The Right Living Program. Though W.I.N. began with only four attendees, today the program has been translated into 4 languages and has been taught in 8 different countries around the world. The W.I.N. Foundation has been implemented in: USA, Greece, Belgium, New Zealand, Australia, Netherlands, Pakistan and Guatemala.
The W.I.N. Foundation is the original outreach who for 15 years has consistently provided programs of recovery, education, prevention and empowerment. They have advanced from a single recovery program in 1996, to now adding global outreach a life-empowering college program called Raise Your Standards, a bullying and teen violence High School program called The Safe Love Project, an annual children's program called Christmas for Kids as well as an On-line Webshop and a Training and Certification program.
The mission at The W.I.N. Foundation is simple: to develop and deliver powerful, life-changing and healing programs to those affected by abuse.