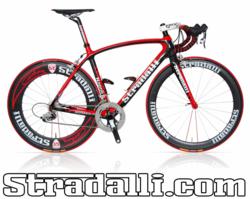 everyone deserves a second chance. As a consultant his expertise would be invaluable
Fort Lauderdale, FL (PRWEB) October 19, 2012
In an unprecedented move, Stradalli Cycle, the high performance carbon bicycle manufacturer, has today offered Lance Armstrong the role of testing and design consultant for Stradalli's 2014 product line. Although Stradalli Cycle wholly condemns the use of banned substances and any form of cheating, the company believes that Armstrong's many years of professional cycling experience would make him an excellent design and testing consultant.
Lance Armstrong is a cancer survivor, who has inspired millions of cancer patients, so this isn't the first time he has had to face adversity. In any sport, in any game, there is always a second chance. After every defeat comes the possibility of another victory. Clearly Lance Armstrong has made some bad decisions but his experience and expertise as a cyclist and a racer cannot be denied.
The revelations and accusations made by the USADA are very disturbing for the whole cycling community. The implication of so many people, not only Armstrong, casts a dark shadow over the sport. The result of this scandal is that Armstrong's sponsors including Nike, Trek, Anheuser Busch and Giro have terminated their contacts. Also Lance has decided to step down as chairman from his Livestrong charity. However, there is always the chance of redemption.
Stradalli wants to give Lance an opportunity for a brighter future, while acknowledging his past. By offering Lance this new role, the carbon bicycle manufacturing company wants to be part of the effort to help him make a new start and rebuild his reputation. Anyone who has faced problems, even those brought about by their own misguided actions, understands the need for hope and for change.
"Lance Armstrong probably has more experience with racing bicycles and testing cycling equipment than anyone else in the world. The USADA doping accusations represented a sad day in the cycling world," said Thomas Steinbacher. "But everyone deserves a second chance. As a consultant his expertise would be invaluable and we would appreciate his input in helping us design our 2014 range."
Armstrong has been influential in the adoption and development of carbon race frames, as well as other components and accessories. He has changed modern cycling and today many of his design contributions are part of the racing norm. Stradalli Cycle has made an official job offer to Lance Armstrong for an undisclosed amount. His response is not yet known.
About The Stradalli Cycle Company
The Stradalli Cycle Company is based in Florida and sells worldwide to the keen athlete who demands the best equipment. With years of experience in both high tech manufacturing and design as well as a love for cycling, Stradalli brings passion and innovation to the road racing and time trial markets.