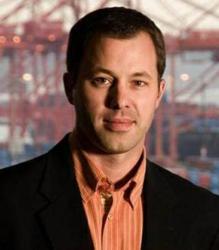 From my time at Microsoft, I know the agency landscape intimately and I can say with confidence there is no other agency out there that understands digital media like Razorfish.
New York, NY (PRWEB) September 15, 2011
In order to stay ahead of the significant growth Razorfish's digital media business is experiencing, the agency has hired back Jeff Lanctot, 39, to serve in the newly created role of Chief Media Officer. Lanctot, who begins work on October 5th, will report directly to Bob Lord, the company's Global CEO.
"We've seen such dramatic changes in the media, creative, and technology marketplace, even over the past few months since winning digital media agency of record for Disney and Travelocity," said Lord. "To continue on the same winning trajectory, we needed someone at the highest level of the organization to spearhead our leading edge media presence. Having worked with Jeff in the past, I can't think of a better person to be our first Chief Media Officer."
Lanctot will be charged with myriad activities ranging from working with the executive team to identify the right investments and focus areas to collaborating with VivaKi and sister agencies to create the best approach to co-branded Publicis Groupe solutions. Additionally, he'll serve as a strategic thought leader for several of Razorfish's largest media clients, working to bring VivaKi's impressive tools and massive buying scale more deeply into Razorfish's media and search offering.
"From my time at Microsoft, I know the agency landscape intimately and I can say with confidence there is no other agency out there that understands digital media like Razorfish," said Lanctot. "The strength of the offering is simply unsurpassed, and it's driven by their belief in digital media and performance marketing as a primary vehicle in the agency of the future."
Lanctot originally joined Avenue A (now Razorfish) in 1999 as Media Director. He remained at the agency for 10 years, progressing through multiple positions including General Manager of the Northwest Region and SVP Global Media. He left to join Microsoft as Managing Director, Advertiser and Publisher Solutions, a position he vacated in February. Lanctot also serves on the Board of Directors for several media companies including Mixpo, WealthVisor.com, and AdXpose.
"The mission of VivaKi has been to strategically align digital and media in a way that accelerates the capabilities of our agencies, and Jeff's return to Razorfish punctuates the power of this alignment," said Jack Klues, CEO of VivaKi. "His vision, imagination and fundamental knowledge of the marketing business will benefit VivaKi, Razorfish and most importantly, our clients."
A graduate of Washington State University, Lanctot lives in Seattle with his wife and three kids.
About Razorfish
Razorfish creates experiences that build businesses. As one of the largest interactive marketing and technology companies in the world, Razorfish helps its clients build better brands by delivering business results through customer experiences. Razorfish combines the best thought leadership of the consulting world with the leading capabilities of the marketing services industry to support our clients' business needs, such as launching new products, repositioning a brand or participating in the social world. With a demonstrated commitment to innovation, Razorfish continues to cultivate our expertise in Social Influence Marketing, emerging media, creative design, analytics, technology and user experience. Razorfish has offices in markets across the United States, and in Australia, Brazil, China, France, Germany, Japan, Spain, Singapore and the United Kingdom. Clients include Carnival Cruise Lines, MillerCoors, Levi Strauss & Co., McDonald's and Starwood Hotels. With sister agencies Starcom MediaVest, ZenithOptimedia, Denuo and Digitas, Razorfish is part of Publicis Groupe's (Euronext Paris: FR0000130577) VivaKi, a global digital knowledge and resource center. Visit http://www.razorfish.com for more information. Follow Razorfish on Twitter at @razorfish.
###