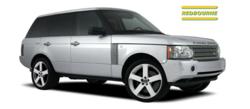 These are unique vehicles that require wheels of high load carrying capacity, able to withstand extreme vehicle demands. We've engineered Redbourne Land Rover and Ranger Rover wheels to meet or exceed all that is required of them
Huntington Beach, CA (PRWEB) July 17, 2012
Legendary Land Rover and Range Rover four-wheel drive vehicles are designed to go anywhere. And anywhere you go you can go in style with the new Nottingham Range Rover wheels and Land Rover wheels from Redbourne. Redbourne, part of the TSW Alloy Wheels family of companies, is a purveyor of meticulously engineered custom wheels manufactured exclusively for the full line of Land Rover vehicles.
"The Nottingham wheel is inspired by the simple, pragmatic design ethic that has long been a trademark of Land Rovers. Its elegance, however, is matched by precision-cast ruggedness, acknowledging that Land Rover owners are likely to head off road over tough terrain whenever the opportunity presents itself, " commented Terence Scheckter, President of Redbourne. "These are unique vehicles that require wheels of high load carrying capacity, able to withstand extreme vehicle demands. We've engineered Redbourne Land Rover and Ranger Rover wheels to meet or exceed all that is required of them," Scheckter added.
The Nottingham is a sturdy one piece cast wheel. It is available in bright chrome, hyper silver, matte black, stunning gloss white and a very British matte bronze finish. Drivers looking for LR2 wheels, LR3 wheels, LR3 HSE wheels, Sport HSE wheels can be assured that the Nottingham will fit correctly on their vehicle. In addition, the wheel comes in fitments to match perfectly the requirement for Range Rover Sport Supercharged wheels, Range Rover HSE wheels and Range Rover Supercharged wheels. The Nottingham is available in both 20" and 22" diameters, both in 9.5" width.
The Redbourne website provides a wealth of information for Land Rover and Range Rover owners. A fitment guide found on the website indicates full specifications for both 20" and 22" models ideally suited to each model Land Rover and Range Rover and includes recommended tire sizes for each application.
The Redbourne website also provides a helpful wheel configurator, which enables owners to preview each of the 18 different Redbourne Range Rover sport wheels and Land Rover sport wheels on various models, colors and model year vehicles. The site also provides a gallery of photos submitted by owners, providing additional opportunities to see how each Redbourne wheel looks on different model Land Rovers and Range Rovers. Photos of various models can be downloaded and saved as a desktop image for those who dream big. Finally, the website even includes an active wheel inventory to show how many of each wheel is currently available.
All Redbourne wheels are cast in a single piece to the strictest tolerances while maintaining the lowest possible weight. Like all Redbourne wheels, the Nottingham is engineered for hub centric fitment, meaning the wheels are engineered to fit precisely over the center flange of the brake rotor, ensuring that the wheel is concentric with the wheel bearings for a truer, better balanced wheel/tire assembly and a smoother ride.
Redbourne Range Rover wheels and Land Rover wheels are widely available at better tire stores and aftermarket wheel retailers nationwide. Shoppers can search Redbourne wheel dealers by zip code on the http://www.Redbournewheels.com website or by phoning 1-800-479-9723.