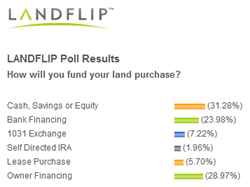 As the mortgage industry continues to come under scrutiny and stricter regulations are enforced, buyers are still finding ways to take advantage of the market, even if they have to use their own cash
Atlanta, GA (PRWEB) October 15, 2008
As stocks in the United States continue to drop fueled by the collapse of banks and real-estate investment trusts, an increasing number of land buyers are using cash, savings and equity, among other methods, to fund land purchases. In a recent poll conducted by LANDFLIP.com, 31 percent of respondents indicated they plan to use cash, savings or equity to fund land purchases in the near future. Only 24 percent indicated that they will rely on bank financing.
"As the mortgage industry continues to come under scrutiny and stricter regulations are enforced, buyers are still finding ways to take advantage of the market, even if they have to use their own cash," said Ryan Folk, founder of LANDFLIP.com. "It's a clear indication that regardless of changes in the banking and mortgage industries, savvy buyers and investors are still aggressively looking for profitable opportunities in the market and seizing them, and that land is still one of the hottest commodities in real estate."
Of the remaining poll respondents, 29 percent reported that they will use owner financing. For others, 1031 Exchange funds, lease purchases and self directed IRAs followed as additional preferred methods of financing land deals with 7.22 percent, 5.7 percent and 1.96 percent of respondents respectively. The poll was conducted over a period of several weeks on the LANDFLIP.com website, and is still ongoing.
LANDFLIP.com is a comprehensive listings database featuring hunting land, farm land, home sites, timber land, horse farms, ranches and other land for sale, land auctions and land for lease. The website also features a database of land brokers and land auctioneers located throughout the United States. The site has quickly grown in popularity with traffic more than doubling in the past year, and a 300 percent increase in the site's subscriber base.
To review current listings or to advertise land, visit LANDFLIP.com today. Sign up for the LANDFLIP newsletter to receive the latest land listings, land articles, and tips and advice from land experts.
About LANDFLIP, Inc.:
LANDFLIP, Inc. is headquartered in Madison, Georgia and specializes in developing innovative online resources for consumers and real estate professionals. Since 2004, the company has launched two websites, LANDFLIP.com and LandThink.com to help land owners, real estate brokers, agents, auctioneers, buyers and investors navigate the land buying and selling process with ease. LANDFLIP.com (http://www.landflip.com) offers buyers and sellers an easy and affordable way to list, market or search for land. LandThink.com (http://www.landthink.com) is the authoritative online resource for land investors, buyers, sellers and owners to get expert advice, knowledge, opinions, trends, and tips related to land. The site also features the Get Land Smart newsletter, a helpful guide to information on buying, selling or investing in land.
###