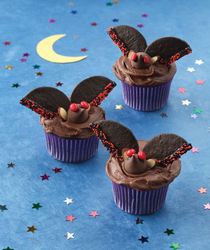 Each year, the Land O'Lakes Test Kitchens creates frighteningly new and delicious treats for Halloween, and this year is no different.
Arden Hills, MN (Vocus) October 5, 2010
There was neither toil nor trouble when the folks at Land O'Lakes Test Kitchens created their new and hauntingly delicious batch of delicious Halloween goodies. In fact, they had a frighteningly good time. And, since more and more parents are opting to have the neighborhood ghouls and boys over for a party rather than out trick or treating, Land O'Lakes is sharing its new recipes and some kid-friendly tips to make your Halloween shindig a howling success.
Set the Mood, Send the Invites
Setting a theme will help you create a "feel" for your Halloween party. For older kids, you may want to create a real fright-fest with spooky costumes and a haunted house atmosphere. For younger children, avoid the blood and gore and stick with a kinder, gentler theme like pumpkins, pirates, bugs or Harry Potter. Invitations, decorations, costumes, crafts and games can all be in keeping with your theme.
The kids can help create homemade invitations, or you can simply hit the print key on your computer with ready-to-go theme invitations. There are countless Halloween-related designs available on the Internet for downloading.
Create Costumes
Kids can be awfully creative when it comes to costumes, so if you're thinking DIY, consult with them. The simpler and more general the idea, the easier it is to create the costume using materials you have right at home. You may only need to purchase a few accessories. The more specific the costume, the harder it is to make. If you're handy with a sewing machine, your options are almost endless. And, of course, ready-made costumes can be purchased most anywhere.
Tempt Them with Treats
Each year, the Land O'Lakes Test Kitchens creates frighteningly new and delicious treats for Halloween, and this year is no different. Scare your arachnophobic guests with a creepy, crawly, southwestern-flavored Spider Cheese Ball, and enjoy a twist on the traditional with bite-sized Sparkling Candy Corn Cookies. Everyone is sure to swarm to fudgy and deliciously scary Chocolate Batty Cupcakes, and sweet and salty Warty Witches' Hats cookies will mysteriously disappear before your very eyes (see recipes that follow or find these and many more Land O'Lakes Halloween recipes at http://www.landolakes.com ). Make your Halloween treats even more spook-tacular by serving them on black and orange platters or in Halloween-themed serving dishes.
Make It All Fun and Games
Now that you've "stuffed" your guests with spooky yummies, keep them moving with Halloween games and crafts. Consider traditional games like Bobbing for Apples or Pass the Orange, or you can create your own custom games like "Pin the Nose on the Pumpkin" or a mummy race, where team members wrap one another in toilet paper during a given amount of time. Rules and instructions for these and many other creative, Halloween-related games can easily be found searching the Internet.
Depending on the ages of your guests, consider a craft that kids can keep as a party memento, like Paper Plate Ghosts or Pom Pon Pumpkins. Also, kids can decorate pumpkins and gourds, draw sinister characters on poster boards, play Halloween charades and watch scary movies. Again, hundreds of ideas such as these can be found during a quick Internet search.
Additional recipes and much more can be easily found on the Land O'Lakes website. Also, join the LAND O LAKES® Simple Rewards® Club to enjoy benefits such as free downloadable gift tags, an online Recipe Box for storing favorite recipes, easy access to LAND O LAKES® Recipe Buzz™ Blog, and printable, money-saving coupons for LAND O LAKES® products.
About Land O'Lakes
Land O'Lakes, Inc., a Minnesota-based food and agriculture company, is a leading supplier of quality dairy products. In 1921, Land O'Lakes began making butter from sweet—not sour—cream. Ever since that breakthrough, the company has been a leading producer of butter and other pure, wholesome dairy products that deliver simple goodness to consumers. Visit http://www.landolakes.com for great recipes and meal ideas.
# # #